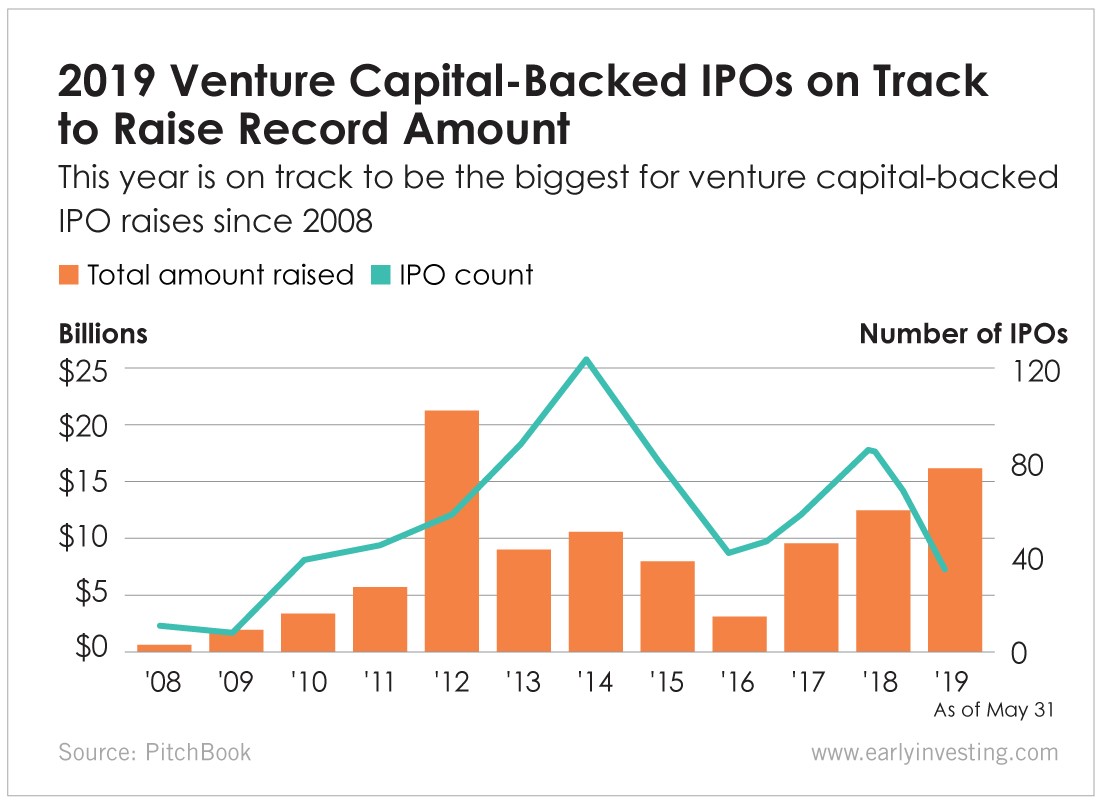 2019 is on track to be the biggest year for venture capital (VC)-backed IPOs since 2008. In the first two months of the second quarter, VC-backed companies raised about $12.72 billion in the public markets over 21 offerings. Combined with Lyft's IPO at the end of March, this puts the current total for the year – $16.2 billion – far above the annual amount raised in 10 of the past 11 years. (The outlier being 2012, when Facebook raised $16 billion at a $104 billion valuation.)
With more big companies expected to go public this year (including Airbnb, Peloton and others), it's likely 2019 will topple 2012's record total of $21.2 billion in IPO raises.
The big question is whether VCs are getting a good bang for their buck. As the National Venture Capital Association (NVCA) notes in the "PitchBook-NVCA Venture Monitor" report, larger and fewer deals – with extremely high valuations – have driven VC investments this year.
That's part of a trend that's emerged over the past several years. Mountains of venture capital cash are allowing startups to remain private for several years – often through their growth phase. Some of this year's most watched private companies – Uber, Lyft and Beyond Meat – all went public with valuations above the $1 billion mark.
In the first quarter of 2019, there were 103 "supergiant" VC rounds – raises of $100 million or more. That averages out to more than one supergiant round per day.
And the most "generous" VC firms – including SoftBank, Tiger Global Management and Sequoia Capital – have led investment rounds that generated more than $1 billion.
But after all the VC funding rounds, what happens once the company finally goes public? It's been a mixed bag. Beyond Meat had the biggest IPO day pop since 2000, while Uber had a more disappointing launch.
Matt Stapleton, head of Shareworks Startup, said in the "Venture Monitor" report that how startups fare once they go public is something he's keeping an eye on.
As the trend for companies to remain private longer continues, we are about to see some of the highest-profile VC-backed companies of the past decade make their move into the public markets. How they are received by public investors will have a substantial impact on the activity of late-stage and growth investors going forward… We may see a fundamental shift in the investment pace of late-stage companies in the latter half of 2019 depending on the success of these IPOs.
We'll keep an eye on this VC trend.
Good investing,
Allison Brickell
Assistant Managing Editor, Early Investing