If Warren Buffett reads this week's startup investment recommendation, he might crack a smile.
For years, we've poked fun at the Berkshire Hathaway CEO and his right-hand man Charlie Munger for their positions on bitcoin and missing out on the tech boom.
But we poke fun because we both respect and love them. They're an odd couple. Munger loves Zoom calls. Buffett — not so much. Buffett expects a lot out of bankers. Munger is a little more sympathetic to their plight.
Listening to the 97-year-old Munger and 90-year-old Buffett talk about each other — and investing — is a lot like listening to grandparents who have spent a lifetime together. The conversations are filled with love, respect, wisdom and affection.
One of Buffett's favorite investment rules is "never invest in a business you cannot understand."
Well folks, I'm happy to report the startup investment opportunity I'm presenting to you today isn't just in a sector I know well. It's something I lived and experienced for more than 10 years.
Prior to joining Early Investing, I spent more than a decade working in the casino industry. Most of my expertise is building, launching, marketing and operating online casinos, sportsbooks and poker rooms. I picked up some brick-and-mortar casino expertise along the way. I became a casino regulatory expert in North America, Europe and Asia. I helped lobby both state governments and Congress to legalize online gambling. And I even moved to Hong Kong for a couple of years to launch an online sportsbook startup that had a crypto twist.
So I know a thing or two about the casino industry. More importantly for the purposes of today's discussion, I cut my teeth in the online casino business in affiliate marketing. And the startup I'm presenting to you today, Fantasy Sports Co., plans on revolutionizing affiliate marketing for sports betting.
Affiliate marketing is one of the oldest forms of web-based customer acquisition. Whenever you read a product review or book review online, you'll see a button or link that sends you directly to the appropriate Amazon or Best Buy product page. And from there, you complete your purchase.
This screen grab from CNET illustrates what I'm talking about.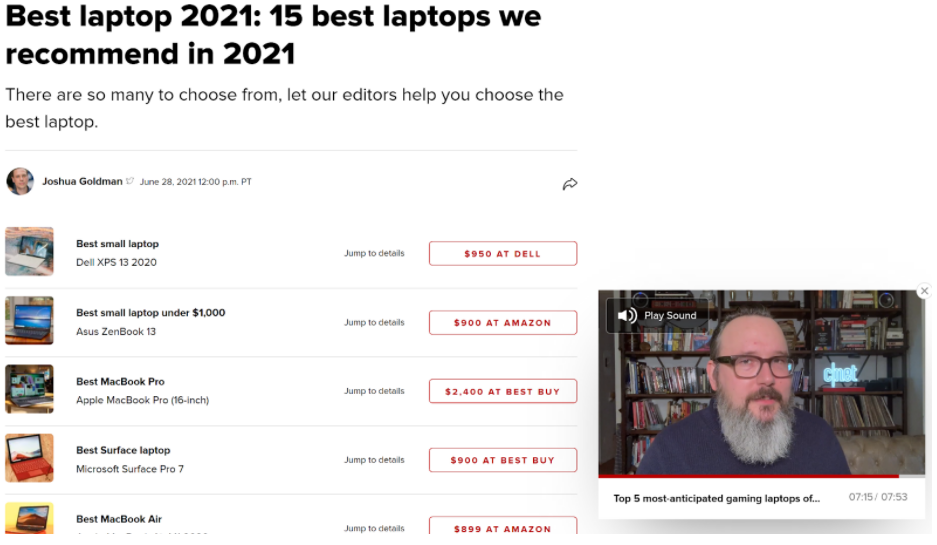 What you might not know is that each one of those links is an "affiliate link." So when you click on one of those links and buy the computers they've recommended, CNET gets a commission. And CNET only receives the commission if the person they referred actually buys the computer.
CNET is better than most. It reveals (in tiny type at the top) that it might get a commission if you buy a computer using one of these links. Many affiliate sites don't reveal even that much.
In addition to being one of the oldest forms of web-based marketing, affiliate marketing is one of the most successful forms of customer acquisition and performance marketing. According to one estimate, $12 billion is spent annually on affiliate marketing. That number is growing at about 27% annually. And the United States represents about 40% of the global market.
One of the most lucrative sectors in affiliate marketing is online casinos. In Europe, affiliates traditionally get 25% to 35% of the net revenue generated by each player they refer. For affiliates that consistently deliver a high volume of players or a steady stream of high rollers, commission could be even higher — with some places paying 50% to 60% of net revenue.
Let's run the math on the European model and start by assuming the average lifetime value of a player is $1,200. That means for each player an affiliate delivers, the affiliate will earn about $420 (in lifetime revenue). Now let's assume the affiliate delivers 250 new customers a month. That's $105,000 in (lifetime) revenue per month, or $1.26 million in (lifetime) revenue generated for a year. All for delivering about eight customers a day.
It's easy to see how this business scales. Let's say an affiliate starts delivering 500 customers a month. And at 500 customers a month, the affiliate starts getting 50% of the net revenue. And once again, let's assume an average lifetime value of $1,200 for the player. At this point, the affiliate is generating about $300,000 of (eventual) income per month. And over the course of 12 months, the affiliate has generated $3.6 million of (eventual) income — just for delivering about 17 new customers a day.
Now let's shift to the U.S., where Fantasy Sports Co. is doing business. I spent hours on Zoom and the phone talking to Fantasy Sports Co. founder Erik Groset. And Erik knows his stuff.
The American sports betting sector is booming. Since the Supreme Court cleared the way for states to legalize sports betting in 2018, 21 states and Washington D.C. have legalized some form of it. And since June 2018, more than $58 billion has been wagered in legal sportsbooks in the U.S., generating more than $4 billion in revenue for sportsbook operators.
By 2025, sportsbooks are expected to generate at least $7 billion revenue annually. They're already reporting average lifetime values for customers of up to $2,000. That's roughly an 80% increase over what's typically seen in Europe.
Fantasy Sports Co. wants to capitalize on this explosive growth by changing the way the sportsbook affiliate game is played.
Typically, a sportsbook affiliate does one of two things to attract new customers:
Write compelling reviews about sportsbooks they work with. When bettors search for reviews on Google, they find the reviews and pick where they want to bet based on the reviews.

Odds or edge shopping. Sports bettors are always looking for the best odds for a bet they want to place. Or to get that extra piece of information that de-risks their bets. (The best sports bettors approach their business the same way a hedge fund manager or Wall Street trader would.)
Fantasy Sports Co. is headed in a different direction. First, it's building a rewards program called BetFully that can help bettors get up to 10% of their cash back on wagers. 
And then it's adapting its existing fantasy sports data and analytics and horse betting platforms to help people manage their wagers and become better sports bettors.
This combination of tools will make Fantasy Sports Co. a force to be reckoned with.
Cash back offers are a proven way to build rewards programs. Rakuten (formerly Ebates) was built on this model. So was Discover. Yet pure cash back is rare in the betting world. 
Most gaming operators prefer free bets. With free bets, they don't have to pay out anything if the bet loses. And if the bet wins, they can attach strings to the winnings — like saying customers have to gamble a certain amount before claiming their winnings.

So cash back is a major differentiator. And because Fantasy Sports Co. is providing the cash back out of its own pocket (giving part of its commission back to the player), most affiliates are unlikely to follow the company down this path. Cash back only works for affiliates if they're operating at scale. And operating at scale in the U.S. is difficult.
That's because most states have begun licensing affiliates. So if you want to market DraftKings in New Jersey and Colorado, you would have to apply for licenses in both New Jersey and Colorado. Now imagine what happens when sports betting becomes legal nationwide. Keeping up with dozens of licensing requirements just isn't practical for smaller operations.
This is a case where regulations can help startups like Fantasy Sports Co. Keeping up with and maintaining licensing requirements in multiple states is something only well-funded or well-established affiliates will take on. That means Fantasy Sports Co. won't have as much competition as it would in an unregulated market.
Fantasy Sports Co.'s second big differentiator is its data and analytics platform. Erik and his team have figured out how to use data to make people better at betting. In fact, Fantasy Sports Co. is already generating revenue doing this.
Right now, Fantasy Sports Co. offers two apps — LineStar and TrackWiz. LineStar helps daily fantasy sports bettors. TrackWiz helps people betting on horse racing. Both interfaces are terrific. And they provide bettors with data and information they need to improve their results.
So far, bettors like these apps. In the first quarter of 2021, Fantasy Sports Co. generated $225,000 in revenue through these apps. And last year, in the middle of a pandemic, the company generated about $859,000 in revenue. 
Erik will need to adapt these apps to work for sports betting. But he's already shown he can build an app that customers will like and use. So that takes a big risk off the table.
A sports betting app that tracks bets and betting behavior (along with improving results) also opens up new revenue possibilities.
In the future, Fantasy Sports Co.'s suite of tools can be used to understand betting behavior, determine why certain offers work better than others and reactivate players who have stopped betting. The tools could also be used to identify problem gamblers and help keep them off of betting platforms. Sports betting operators would pay handsomely for this information.
And sports bettors will likely be willing to pay for advanced data and metrics that improve their results. The sky's the limit for Fantasy Sports Co.
Due to regulatory concerns, the U.S. market tends to focus on CPA (cost per acquisition) deals instead of revenue sharing deals. That means sports betting affiliates will receive a set amount of money each time a new player signs up and deposits/bets a certain amount of money.
Erik says he's seeing CPA rates ranging from $250 to $1,000 for sportsbooks. Let's run the math on the low end. If Erik can get sportsbooks 30 customers a day, that's $7,500 in daily revenue. Over the course of an entire year, that's almost $2.8 million in revenue. If you do the math at the $1,000 rate, Fantasy Sports Co. is generating $10.95 million in revenue. 
I don't expect $1,000 CPAs to be the norm. Sportsbooks are a low-margin (less than 10%), high-volume business. So $1,000 CPAs are likely unsustainable. But as Fantasy Sports Co. grows, $400 or $500 CPAs seem reasonable. Thirty customers a day at a $450 CPA would generate about $5 million in revenue over the course of a year. And I think that's a reasonable goal for Fantasy Sports Co. to achieve in the next few years.
That combined with its other revenue streams (current and projected) make Fantasy Sports Co. an attractive proposition.
And the market has already shown it's willing to reward affiliate marketing plays in sports betting.
Two sportsbook affiliates that follow the traditional affiliate marketing models were recently acquired for serious money. DraftKings bought the Vegas Sports Information Network (VSiN) for around $100 million in March. And Better Collective bought the Action Network for $240 million in May.
Based on Fantasy Sports Co.'s $19 million pre-money valuation, a $240 million acquisition would be a 12.6X return. But I expect Fantasy Sports Co. to do far better than the Action Network.
Fantasy Sports Co. has already raised more than $900,000 on SeedInvest. Fantasy Sports Co. is raising up to $3.5 million, so you don't have to worry about the raise filling up. But it will be closing its raise in two weeks. So if you want to invest, make sure you do it soon!  
The company will use the proceeds of the raise to finish building out its BetFully platform. And once the platform is built, the company will begin marketing it to an existing customer base of almost 500,000 people.
I believe Fantasy Sports Co. is one of the best sports betting investments out there — and far better than most of the publicly traded sports betting operators. I'd rather invest in Fantasy Sports Co.'s upside than bet on a company like DraftKings living up to its frothy $20.57 billion valuation (that's five times more than the entire sports betting market right now!).
---
Deal Details
Startup: Fantasy Sports Co.
Security type: Tiered Preferred Equity (SWIFT)
Price per security: $1.2405
Valuation: $19 million
Minimum investment: $1,000
Where to invest: SeedInvest
Deadline: July 16, 2021
---
How to Invest
Fantasy Sports Co. is raising up to $3.5 million on SeedInvest. If you don't already have a SeedInvest account, you'll need to sign up for one. Once you verify your account and are logged in to SeedInvest, visit the Fantasy Sports Co. deal page. Then click the button to invest. Enter the amount you want to invest, starting as low as $1,000 and proceed through the required steps. Be sure your investment is confirmed, and then you're good to go.
Risks
This opportunity, like all early-stage investments, is risky. Early-stage investments often fail. The investment you're making is NOT liquid. Expect to hold your position for five to 10 years. An earlier exit is always possible but should not be expected.
All that said, I believe Fantasy Sports Co. offers an attractive risk-reward ratio.