The jeep was invented in 1940. About 600,000 were deployed in World War II. When the war ended, surplus jeeps were sold off for pennies on the dollar. In 2018, more than 240,000 Jeep Wranglers were sold.
The Department of Defense developed the original GPS, or Global Positioning System, in the 1960s. During the Gulf War in the '90s, soldiers used GPS devices to target enemies with pinpoint accuracy. Today, GPS technology is used in thousands of consumer products.
The military spent millions developing the Advanced Research Projects Agency Network (ARPANET) – the forerunner for the internet in the late '60s and early '70s.
The jeep. GPS. The internet. These technologies have spawned billion-dollar companies and trillions of dollars of revenue. And they have one thing in common – the U.S. military developed them all.
Now you can invest in the next military technology about to have a massive impact on dozens of industries. I'm talking about drones.
They arrived this century as a favorite military tool of the U.S. armed forces.
And since drones' debut, the potential consumer applications for them have been obvious, especially for delivery and commercial surveillance. But so far, apart from taking great pictures and video, drones have had limited use.
Soar Robotics aims to change that.
Artificial intelligence (AI) and cloud technology now allow drones to be smarter and more autonomous. They enable continuous connectivity and "beyond visual line of sight" (BVLOS) flights (so vast tracts of land can be surveyed automatically). Better battery technology now powers much longer flight times.
Soar Robotics combines all of that to offer completely autonomous drones in its drone-in-a-box solution.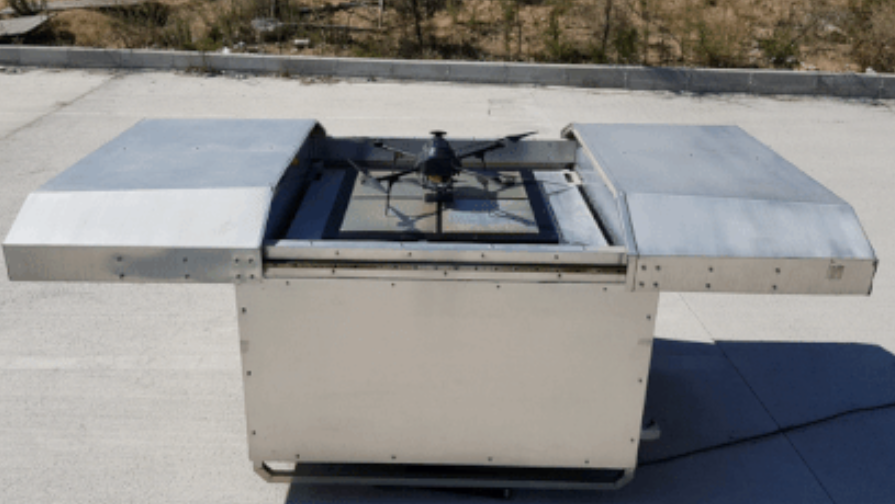 Soar'sdrone-in-a-box solution deployed on factory premises
Setup takes just two hours. In-flight and post-operation data handling are fully automatic. Precision landing – also automatic. So is autonomous charging.
Drone-in-the-box systems are as big a change to drones as autonomous driving will be to cars. They will transform how drones are used. And they open up hundreds of applications.
The drone market is going to become enormous over the next decade. How big? Let's tackle the four M's (market, monetization, metrics and management), beginning with market size.
Market: 300 Billion Reasons to Invest
Drones already command a $127 billion global market. And they haven't taken off yet! The combination of improving technology (adding features like BVLOS) and governments finally establishing comprehensive regulatory regimes will boost that number to $300 billion by 2025, according to PWC.
It's always possible growth could be slower than expected. It happened in the autonomous driving space. But it's more likely that expansion will happen faster than expected. The technological challenges aren't as great for drones (the skies are less crowded and complicated than roads). And companies are already testing tricky applications, like last-mile delivery, aerial public transport and aerial personal transport.
Right now, Soar is focusing on selling its services to solar energy and security companies. It expects those two sectors to generate 90% of its revenue in 2020.
Solar farms illustrate how autonomous drones impact all stages of a project.
In the preconstruction period, drones provide topographic models that allow customers to generate highly accurate analyses. During construction, the drone generates daily maps and videos of the site that measure the project's progress.
When the site becomes operational, Soar's daily flights generate thermal and visible spectrum maps videos to detect missing panels and other defects.
Soar's software also generates a detailed report of a client's total loss due to these defects and prioritizes problems based on importance and urgency.
Solar and security are just the beginning. Soar is now testing (and soon targeting) construction and energy projects. After that, it plans on moving into agriculture projects.
Monetization: Subscription System Offers Flexibility and a Pathway to Rapid Revenue Ramp-Up
Because Soar is offering access to both hardware and software, it has developed a robotics-as-a-service model that should work very well.
The revenue model has two parts – one if customers buy Soar's hardware and one if they don't. If you're using your own drones, you will pay $1,500 per vehicle plus another $750 per month for industry-specific analytics (remember my solar farm example) to use Soar's software package. If you're using Soar's drone-in-a-box solution, Soar will charge a $7,500 "initiation" fee and a monthly fee of $4,500 for leasing the hardware and using the cloud software.
The fees are reasonable. That's no guarantee that they'll work. Soar will have to test these prices and respond to customer feedback. But the upside is impossible to ignore. With only 100 drone-in-the-box users, recurring revenue comes to just under $500,000 per month. It will not take many customers to ramp up revenue enormously.
Metrics: Filling the Pipeline With Signed Deals
Soar began to accumulate signed deals late last year. It now has nearly two dozen customers, including four that are active. Most projects will become active later this year, depending on its clients' construction schedules. If those schedules remain on track, Soar should add anywhere from $1 million to $1.5 million to its bottom line in 2020. Revenue is expected to jump to $10 million in 2021 as more clients (including at least a couple of very large energy companies) initiate projects. Soar expects 100 new systems to be deployed next year.
Management: Where Insight and Vision Have Formed a Powerful Force
Kerem Ozkan is Soar's founder and managing director. It's clear from talking to him that he brings a sharp sensibility to his position. Ozkan's path to Soar began in 2015 when he sold his successful digital marketing firm. With some of the sale's proceeds, he founded Calide Investments, where he was drawn to backing startups in robotics, AI and renewable energy – the same sectors where Soar Robotics is now reimagining what the future looks like.
Ozkan is joined by Deniz Kalaslioglu, Soar's founder and chief technology officer. A natural tech whiz, Kalaslioglu founded a drone service startup in 2013, where he observed many of the drawbacks of human-operated drones. He's also led two research teams addressing problems in autonomous outdoor and indoor flights.
With 10 years of combined experience, plus two successful exits, these two founders possess uncommon insights into the shortcomings of the current drone industry and exactly what it takes to unleash pent-up demand.
And they're willing to back their efforts with their own money. They've invested $600,000 into the company. Founders investing in their own company is typically a great indicator of future success.
What's more, Soar is priced at an extremely reasonable $7 million valuation. It adds up to a very favorable risk-reward value proposition.
How to Invest
Soar is raising up to $1.07 million on Republic. If you don't already have a Republic account, you can sign up for one here.
Once you verify your account and are logged in to Republic, visit the Soar Robotics deal page.
Then click the blue "Invest in Soar Robotics" button. Enter the amount you want to invest, starting as low as $100, and proceed through the required steps. Be sure your investment is confirmed, then you're good to go.
Risks
This opportunity, like all early-stage investments, is risky. Early-stage investments often fail. Soar Robotics might need to raise funds in a year or two, if not sooner.
If it executes well, this shouldn't be a problem. But that's a risk worth considering when investing in early-stage companies. The investment you're making is NOT liquid.
Expect to hold your position for five to 10 years. An earlier exit is always possible but should not be expected.
All that said, I believe Soar Robotics offers an attractive risk-reward ratio.