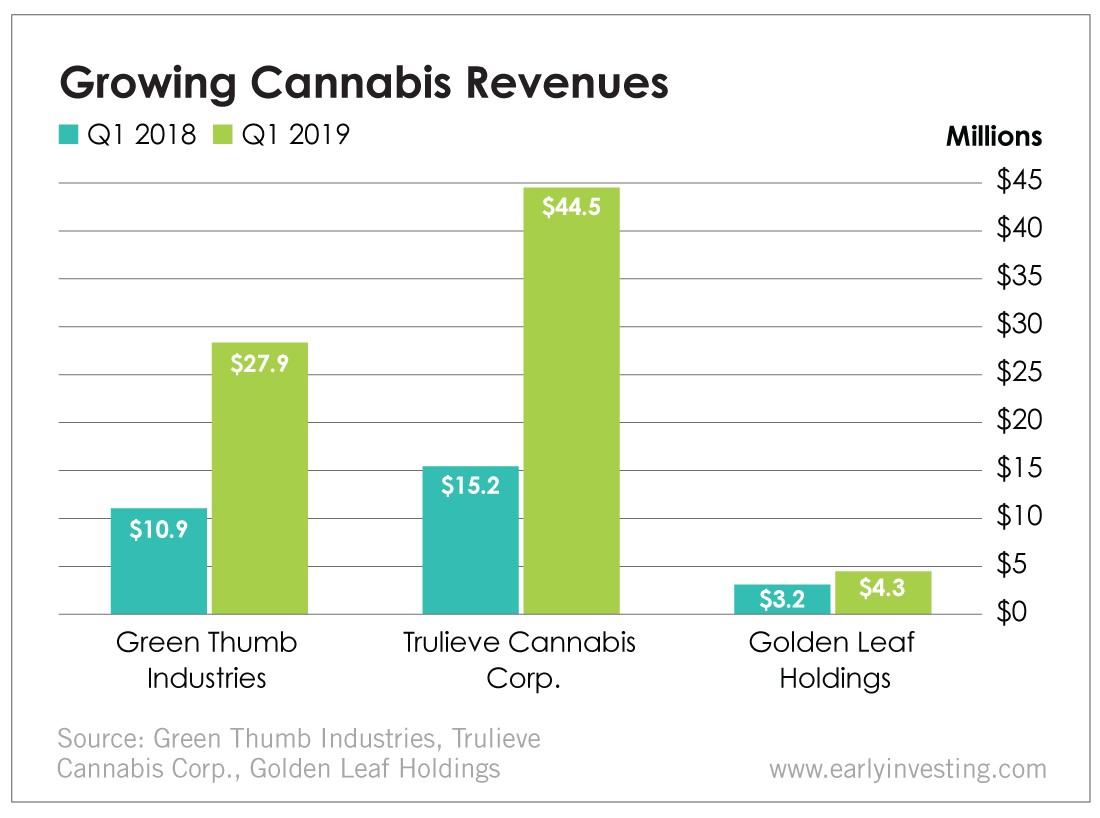 Most of the mainstream coverage of pot stocks focuses on Canopy Growth Corp., Aurora Cannabis, Tilray and a few other heavy hitters in the space.
Investors hear less about the smaller pot stocks. So today we're looking at the revenue numbers of Trulieve Cannabis Corp., Green Thumb Industries and Golden Leaf Holdings.
All three companies are less well-known than Tilray, Aurora Cannabis and the other majors. They all currently trade for less than $13. And all three have seen a revenue increase from 2018 to 2019.
Trulieve's revenue increased from $15.2 million to $44.5 million from the first quarter of 2018 to the first quarter of 2019, an increase of nearly 200%. Green Thumb saw revenue growth of 156%, from $10.9 million to $27.9 million over that same time period. And Golden Leaf saw a more modest revenue increase of 34% when it went from $3.2 million to $4.3 million.
Trulieve, based in Florida, recently won a fight against the Sunshine State to open more medical marijuana dispensaries. And it just acquired 85 acres in Florida to build a 750,000-square-foot, state-of-the-art indoor growing facility.
Green Thumb just opened its third retail location in Florida (its 20th store nationwide). And Canada-based Golden Leaf is expanding its reach in the U.S. It recently announced it will begin selling its Jackpot premium distillate oil cartridge brand in Oregon. It was previously available for retail purchase only in Nevada.
All of this is good news for these companies. But it's also good news for cannabis investors and customers. With the cannabis market's rapid and exciting growth, small companies today can quickly become giants tomorrow. So as investors explore the cannabis market, they should keep in mind that the most popular stocks are not the only ones worth paying attention to.
Good investing,
Allison Brickell
Assistant Managing Editor, Early Investing