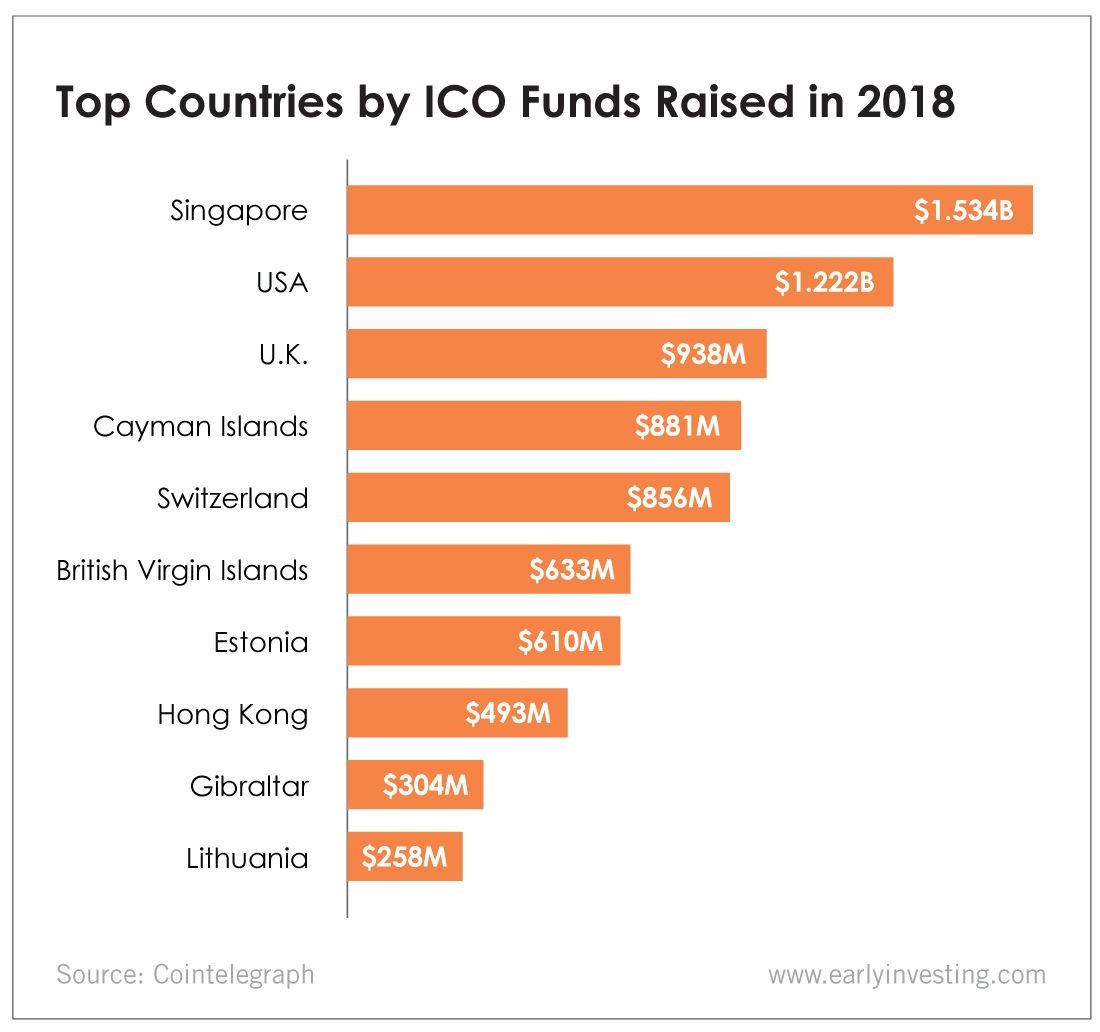 Singapore may be a small country, but it's got big love for crypto.
According to Cointelegraph, 10 countries account for 59% of all ICO projects launched since 2015. Singapore, the U.S. and the U.K. consistently rank in the top three in terms of number of completed ICOs and funds raised. In 2018, Singapore surpassed the usually top-ranked U.S. with $1.534 billion in ICO funding.
Midway through 2018, Singapore was recognized as one of the top three most important ICO hubs worldwide. It's earned this title largely due to the progress it's made on crypto regulations.
The Monetary Authority of Singapore (MAS) has been building out those regulations since it released a guide to digital token offerings in November 2017. According to the guide, MAS regulates ICOs if the digital tokens are "capital markets products" under the Securities and Futures Act. Capital markets products include "any securities, units in a collective investment scheme, derivatives contracts and spot foreign exchange contracts for purposes of leveraged foreign exchange trading."
"Essentially, if the tokens being offered do not fall within the definition of securities under Singapore laws, the ICOs are largely unregulated," Nizam Ismail, partner at RHTLaw Taylor Wessing LLP, said in the Singapore Business Review. "MAS expects ICO issuers to conduct their own independent legal due diligence that the tokens are not securities, and to also address anti-money laundering and counter financing of terrorism risks when issuing tokens. This regulatory clarity has largely made Singapore one of the top jurisdictions in the world for the issuance of ICO tokens."
In a November 2018 update to its digital tokens guide, MAS introduced the Payment Services Bill (PSB), which mandates that any business that in some way handles or facilitates digital token payments must be licensed and regulated under the PSB.
It's not just ICOS and new coins that are attracted to Singapore. Ripple has had early talks with MAS about using ripple for the bank's blockchain experiment in cross-border payments, though a deal has yet to be finalized. Cory Johnson, former chief market strategist at Ripple, called Singapore "crypto heaven":
Singapore has taken a very forward-looking approach to blockchain and crypto, and with that, it is getting the results of some of the best cutting-edge technology, including using ripple to move money across borders.
Singapore even has a "Token Day" (that's almost three weeks long). Crypto company Bizkey launched Token Day to celebrate the 10-year anniversary of crypto and familiarize the public with cryptocurrency. With Token Day, Bizkey aims to demonstrate the ease, convenience and security of accepting crypto. And mainstreaming crypto falls in line with Singapore's bid to become a fintech hub.
To top it off, the country will be hosting Blockchain Life 2019, a worldwide crypto forum in April. The conference expects to have more than 5,000 attendees and 80-plus speakers.
Singapore has more than proven itself as a crypto ally. We're excited to see what it does next… and who will follow its lead.