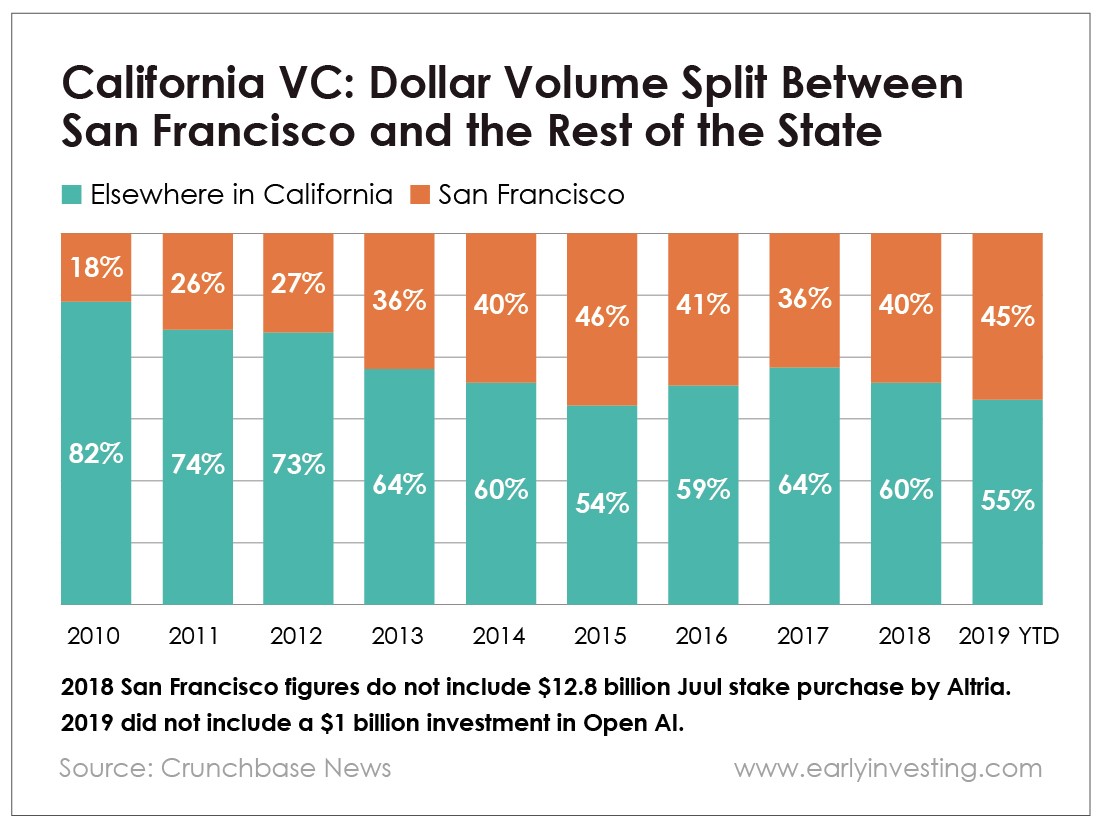 Most everyone knows San Francisco is the biggest hub for startups. Which means it's home to a massive amount of venture capital (VC) funding and startups fighting for a piece of it. But just how much VC money goes into San Fran-based startups? And how does it compare with the rest of the Golden State?
That's what today's chart is all about. According to Crunchbase, San Francisco is a dominant force in the state's VC landscape. So far this year, Bay Area companies have raised around 45% of all seed through pre-IPO funding for California companies tracked in the Crunchbase database.
That's right. I said 45% of all funding rounds – seed (the earliest possible stage) through pre-IPO (the latest possible stage before going public). Here's the breakdown of San Francisco deals by stage:
Late stage: 115 deals collectively valued at $10.1 billion
Early stage: 268 deals collectively valued at $5.14 billion
Seed: 423 deals valued at $403 million.
The average round sizes for San Francisco seed deals and early stage deals are close to being in line with the rest of the state. But its share of unicorns – at least 57 – is much higher.
San Francisco's dominance has been steadily growing over the past decade, with a slight dip from 2016 to 2018. Though other cities have started gaining popularity among entrepreneurs, San Francisco continues to top the list.
So what does this mean for startup investors? It means you need to continue watching startups based in San Francisco and the Bay Area. The strong VC network within Silicon Valley gives its startups a leg up on those outside of the Bay Area.
In fact, Early Investing Co-Founder Andy Gordon and Senior Managing Editor Vin Narayanan will be in San Francisco this week to attend TechCrunch Disrupt, a major startup conference expected to draw around 10,000 attendees. And they'll be on the lookout for promising startup investments to recommend to our First Stage Investor members.
That doesn't mean San Francisco is the only city to produce high-quality startups. As Andy explained in a recent Mailbag, plenty of opportunities arise outside of Silicon Valley. But for now, San Francisco is ahead of the pack. And it's gobbling up a ton of VC funding.