I know hearing about the evils of the pharmaceutical industry can be depressing.
But the future is bright. The medical marijuana industry is disrupting Murder Inc.'s stranglehold over American healthcare.
Every election cycle, this wonder-crop becomes legal in more states. Federal legalization is inevitable. It's only a matter of time.
That means Murder Inc.'s days are numbered. All-natural medicine derived from cannabis has already proven to be a more effective treatment than the poison pushed by pharmaceutical companies for myriad ailments ranging from seizures to glaucoma to general pain.
Have you ever seen a drug ad where the side effects that are rattled off fast so you won't register them sound worse than the actual disease? Cannabis can render tons of those drugs completely obsolete.
The future of medicine is cannabis, not chemicals. Buying into the industry now will position you for massive profits in the near future.
You'll be able to make a fortune while taking the fight to the drug pushers of Murder Inc.
My team and I have pulled together a list of the best medical marijuana stocks to profit from serving Murder Inc. its just desserts.
The stocks here are the cannabis blue chips of the future. We call them "green chips." And they will bring Murder Inc. to its knees and make you a fortune in the process.
The premier stock in my portfolio is the "first mover" and "top dog" in a space that's estimated to be worth $2.7 trillion a year.
So let's not wait another moment…
Introducing the "Coca-Cola of CBD"
Charlotte's Web (OTC: CWBHF) is one of the nation's largest growers of hemp. And it's laser-focused on the medical uses of cannabis.
In fact, Charlotte's Web was founded from Big Pharma's failures.
Stanley Brothers is the founder of Charlotte's Web. The company began researching medical cannabis when the Stanley brothers' uncle developed pancreatic cancer in 2008. Conventional medicine just wasn't helping.
Their research and company came to the forefront when the brothers met Paige Figi. Her daughter Charlotte had Dravet syndrome, a form of epilepsy.
Charlotte suffered through up to 300 grand mal seizures a week. By the time she was 5, all the family's pharmaceutical options had been exhausted.
Then she tried a CBD product created by Stanley Brothers. It was created from a special strain of hemp. And it worked.
Charlotte's Web, the CBD product, reduced Charlotte's seizures to just three per month. It succeeded where Big Pharma had failed. And Stanley Brothers named the product after her.
This incredible story spread across the country as the media got a hold of it. Everyone from The Wall Street Journal, Time and The New York Times to NBC and CNN, just to name a few, brought Charlotte's story to the world.
The CNN story from 2013 was especially widely viewed, and I recommend reading it if you haven't yet. The story helped change America's mind on the cannabis issue.
And through it all, Charlotte's Web became a powerful brand name and didn't have to spend a cent on advertising. With the sort of brand recognition it's cultivating, we could be looking at the Coca-Cola of cannabis.
And in case you're wondering, Charlotte's case wasn't a fluke. Scientists have given Charlotte's Web a close look. And even in situations where Charlotte's Web wasn't a complete fix for epilepsy, it did improve quality of life for patients treated with it.
Charlotte's Web succeeding where Big Pharma failed single-handedly changed perspectives on medical marijuana…
It convinced then-Florida Gov. Rick Scott, a rather conservative politician, to sign his state's proposed medical marijuana law back in 2014.
Charlotte's Web might be small, but it has staying power. The numbers bear that out.
The company has seen rapid growth in revenue. It generated $69.5 million last year. Revenue is projected to grow to $126 million by the end of 2019 and reach $303.5 million in 2020. It's seen a 73.7% year-over-year revenue growth rate.
Charlotte's Web also has a huge cash reserve relative to its liabilities – $51.4 million to $8.7 million.
Between its explosive growth potential and healthy balance sheet, the company's current sub-$15 share price is a bargain.
We expect this company to maintain its spot as the No. 1 brand in CBD and grow into a multibillion-dollar firm over coming years. Unlike profiting from Murder Inc., you don't have to feel guilty about making money from Charlotte's Web's growth. All the money is clean.
Cannabis has dozens of medical uses. That means there are dozens of opportunities for companies like Charlotte's Web to explore.
Investing in Charlotte's Web is a fantastic way to break Murder Inc.'s hold on American medicine while positioning yourself to reap a windfall. The company was recently granted the first patent on a hemp plant in the U.S., which we believe will help cement its brand and lock in future profits.
Going Green in the Land Down Under
Elixinol Global (OTC: ELLXF) primarily deals in hemp-based dietary supplements and skin care products. It also has a new medical marijuana brand called Nunyara.
The company started out as Elixinol Australia. It was a first mover in the cannabis-infused food world and is now a top dog because of it.
Hemp Foods Australia is the company's legacy brand. It sells everything from hemp burgers to skin care products.
But Elixinol really hit the big time when it expanded globally. Elixinol Japan and Elixinol USA were founded in 2014. And the company's main expansion focus now is the United States.
In anticipation of cannabis legalization in America, Elixinol has invested heavily in its U.S. subsidiary. It teamed up with RFI to create Infusion Strategies. The joint venture will develop hemp-infused food products for the American market.
Those hemp-infused foods may be heading to a grocery store near you soon. Elixinol has worked out deals with Safeway Group and Albertsons, two major supermarket chains. Soon, Elixinol's products could be found in as many as 1,000 food stores across America.
It even has an $18 million agreement with Pet Releaf to sell CBD-infused pet products. Pet Releaf's products are sold in more than 4,000 pet stores across America. Elixinol exclusively produces and supplies the USDA-certified organic hemp for Pet Releaf.
In the late spring and early summer of 2019, Elixinol sold 12.8 million shares to raise $50 million. That money went straight into growing the company's global reach, particularly in the United States.
But how does hemp-infused food help fight Murder Inc.?
Hemp has enormous nutritional value. It contains all nine essential amino acids. It also has boatloads of protein and fatty acids.
Hemp could also potentially reduce your risk of heart disease. That's the No. 1 killer of people regardless of age, sex or race worldwide. It also helps promote healthy weight loss and improves digestion.
If there's less going wrong with your body, it means fewer trips to the doctor and less money in Murder Inc.'s pockets.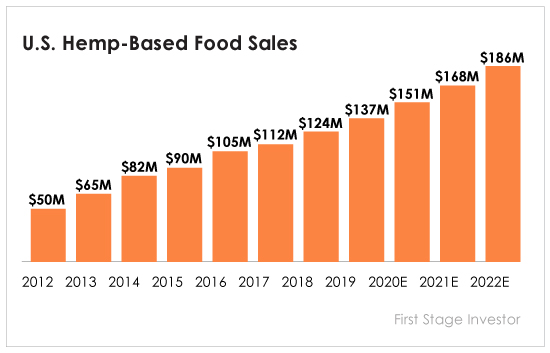 Investing in hemp-infused foods could be as good for your portfolio as it is for your body. Sales in the U.S. alone could amount to as much as $186 million by 2022.
Elixinol is making moves in a potentially enormous market before any of its Canadian competitors. It's taking the fight to Murder Inc. by improving the general health of the population with its foods.
This stock trades for a great price, less than $5. It will be a great addition to your Murder Inc. Disrupter Portfolio.
OrganiGram
OrganiGram (NASDAQ: OGI) is a Canadian company and leader in the organic cannabis space. The company is growing at an impressive pace. Raymond James analysts predict that 2019 revenue will be $97 million. That's a sizable jump from $12 million in revenue in 2018 and $5.7 million in 2017. 
OrganiGram also expects to increase production capacity from 24,000 kilograms per year to 113,000 kilograms per year by the end of 2019.
OrganiGram is one of the few profitable publicly traded cannabis companies. And analysts are generally bullish on OrganiGram. For example, CIBC analyst John Zamparo says, "The company offers one of the few opportunities to gain exposure to the cannabis space at a reasonable price. We believe OrganiGram has a demonstrated track record of profitability, a rarity in the cannabis sector."
Organic cannabis is an area that's especially interesting to me. Pesticides are a big problem in cannabis today. Anything you inhale into your lungs should be organic. I believe that when people buy cannabis for health reasons, they will increasingly choose organic. 
Organic cannabis prices should hold up much better than non-organic. There are very few organic producers, and far less supply. As a result, organic cannabis prices shouldn't be affected by oversupply issues the way non-organic cannabis prices are. 
OrganiGram has healthy gross margins of around 50%, and some of the best yields in the industry. It produces roughly 230 grams per square foot, versus an industry average of 75-125 grams per square foot.
The company has a huge opportunity coming up with sales of cannabis edibles, beverages and vaporizers beginning in December in Canada. 
OrganiGram's primary organic competitor, Green Organic Dutchman, is struggling and has slashed production estimates.
I strongly recommend reading this Bloomberg article to better understand OrganiGram's potential. Here's an excerpt:
OrganiGram said it cost $0.95 to produce a gram of dried flower in its most recent quarter. That was up from $0.65 in the previous quarter, but still compares favorably with C$1.42 at Aurora Cannabis and $1.48 at Tilray.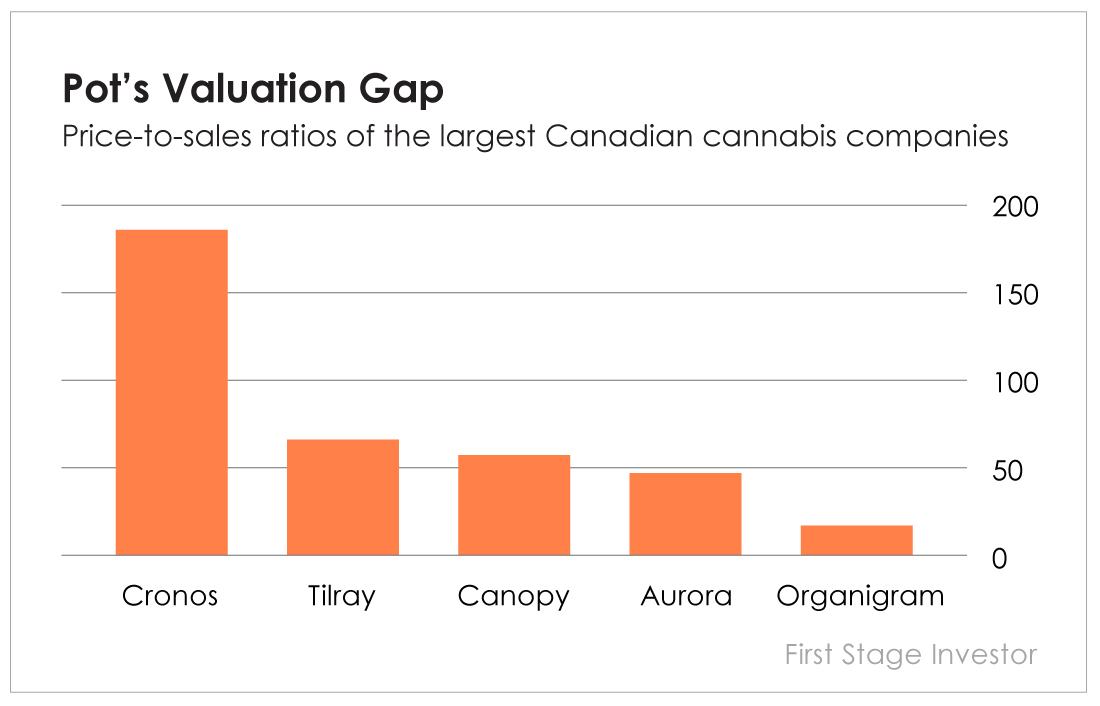 As you can see, OrganiGram trades at a discount to its competitors. Its business model is sustainable, and I believe this company offers an excellent risk-reward equation.
Above the Canopy
One of the earliest movers in the cannabis industry was Ontario's Canopy Growth Corp. (NYSE: CGC). It's still one of the biggest players in the space.
And it has set itself up to be a leader in the industry moving forward. Canopy has a stable of strong brands. It has friends in high places. And it's set up well for continued growth.
It brought in $172.5 million in revenue in 2019 and is projected to bring in $412.9 million in 2020.
The company also has a war chest of $1.8 billion in cash, so it's more than capable of weathering the slow growth of the Canadian market as it waits for Cannabis 2.0 (cannabis-infused edibles and beverages) to take off over the next several months.
Canopy hits the growth sweet spot. It's big enough that it's proven it's not a flash in the pan but still small enough that it has plenty of room to grow quickly.
And growing it certainly is. Canopy has a stable of eight brands and counting that it sells its products under. They range from Tweed, a brand focused on recreational marijuana and CBD products, to Spectrum Therapeutics, a brand developing cannabis-derived medicines.
Canopy's runaway success attracted the attention of Constellation Brands (NYSE: STZ), one of the largest companies in the alcoholic beverage industry. It's the owner of Corona, Modelo, Svedka, and a number of other beer, wine and liquor brands.
Constellation invested $4 billion in Canopy Growth in 2018. That money gives Canopy a significant edge in the cannabis sector. But it also gives investors an "adult" in the room that's used to running a public company. And as we've learned from the WeWork debacle, that's critically important.
Constellation is already exerting its influence over Canopy. Concerned with Canopy's difficulties in constraining costs, Constellation ousted Canopy CEO Bruce Linton. Constellation has also named one of its executives as Canopy's chairman of the board.
For investors, the short-term upheaval is never fun. But as a long-term investment, this bodes well. Constellation has shown it's willing to protect the interests of investors. And by focusing on constraining costs while still expanding efficiently, Canopy is on the road to generating significant profits – and reaching profitably much quicker than it would have otherwise.
I also think Constellation's investment is a sign of things to come. I expect food and beverage heavyweights like Constellation to place their bets on their preferred cannabis companies.
Hemp food products have enormous potential. Cannabis beverage additives could be the next big thing for both alcohol and soda.
Last year alone, legal cannabis generated sales of $12.2 billion worldwide. Constellation was one of the first to get a slice of the pie. It won't be the last…
Anheuser-Busch InBev (NYSE: BUD) subsidiary Labatt partnered with Tilray (Nasdaq: TLRY). Diageo (NYSE: DEO), parent company of Guinness, is looking for a cannabis partner as well.
It's not just alcohol companies either…
Even PepsiCo(Nasdaq: PEP) is looking for an entry point in the cannabis industry.
No matter which direction the cannabis industry moves in – pharmaceuticals, recreation, food or all of the above – Canopy Growth will be a leader in it.
It's fiscally healthy. It's got friends in high places. It's versatile. Most importantly, at just over $20 per share, it's a bargain.
Northern Lights
Last but certainly not least is Aurora Cannabis Inc. (NYSE: ACB). The Edmonton, Canada-based firm is one of the largest and most successful cannabis companies in the world. It has operations in North and South America as well as Europe.
The company sells a large inventory of both recreational and medical cannabis.
Aurora is already a major player in the North American cannabis industry. And it has been rapidly expanding its operations globally.
Aurora exists in a great space within the industry. What we're going to see in the next few years is consolidation. The bigger and more successful cannabis firms are going to devour the smaller competition. And Aurora is way ahead of the curve on the acquisitions front. It bought out its rival CanniMed in 2017. The next year it bought MedReleaf and British Columbia-based Whistler Medical Marijuana.
However, the most important of its numerous acquisitions would have to be Pedanios GmbH. The Berlin-based importer, exporter and distributor gives Aurora a strong presence in Europe.
Aurora bought Pedanios back in 2017, the same year Germany legalized medical cannabis. The purchase paid off immediately.
Aurora immediately doubled its German sales after the acquisition. It sold $2.5 million worth of dried cannabis to German pharmacies in the second quarter of that year.
Pharmacies made up a full 20% of Pedanios' 2017 revenue as well. Cannabis prices are also much higher in Germany than in Canada. That helps Aurora's bottom line.
Aurora and Pedanios have received EU-GMP certification. That's the highest recognition attainable by companies in the pharmaceutical industry.
As European markets expand, you can expect Aurora to profit from its early investment in the region. It already is in fact. Recently, Aurora won a contract to supply medical cannabis to Italy. It's likely that more contracts will follow as European countries continue to legalize cannabis.
The company has announced its intention to enter the American market. The expectation is it'll focus on the CBD market.
The company is showing strong growth on an annual basis. In 2019, it brought in $187.3 million in revenue. It's seen 349.2% revenue growth year over year.
And next year, Bloomberg expects Aurora to bring in $410.4 million in revenue. It also has more than $131.9 million in cash to fuel its expanding operations.
Once it does, you can expect Aurora to profit handsomely as it's done in Europe. It has the means to expand and has proven itself adept at negotiating deals and acquisitions.
It's ambitious and building a global cannabis empire. And at less than $5 per share, we'd say it's a decent bargain.
Fight the Good Fight Against Murder Inc.
Murder Inc. is big and powerful, but it's not unbeatable. Its sins are many, and they've come to light. The pharmaceutical industry has less support from the American people than ever.
Cannabis legalization is inevitable at this point. The people want it. When they get it, the pharmaceutical and health benefits of cannabis will no longer be artificially hamstrung by government.
The five companies in our Murder Inc. Disrupter Portfolio are fighting Murder Inc. in their own ways. They're profiting from it, and so can you.
The growth of the cannabis industry as it becomes legal is the most rewarding investment opportunity ever. You can get rich while doing the right thing. Not many people can say they did that. Certainly nobody in Murder Inc. can.