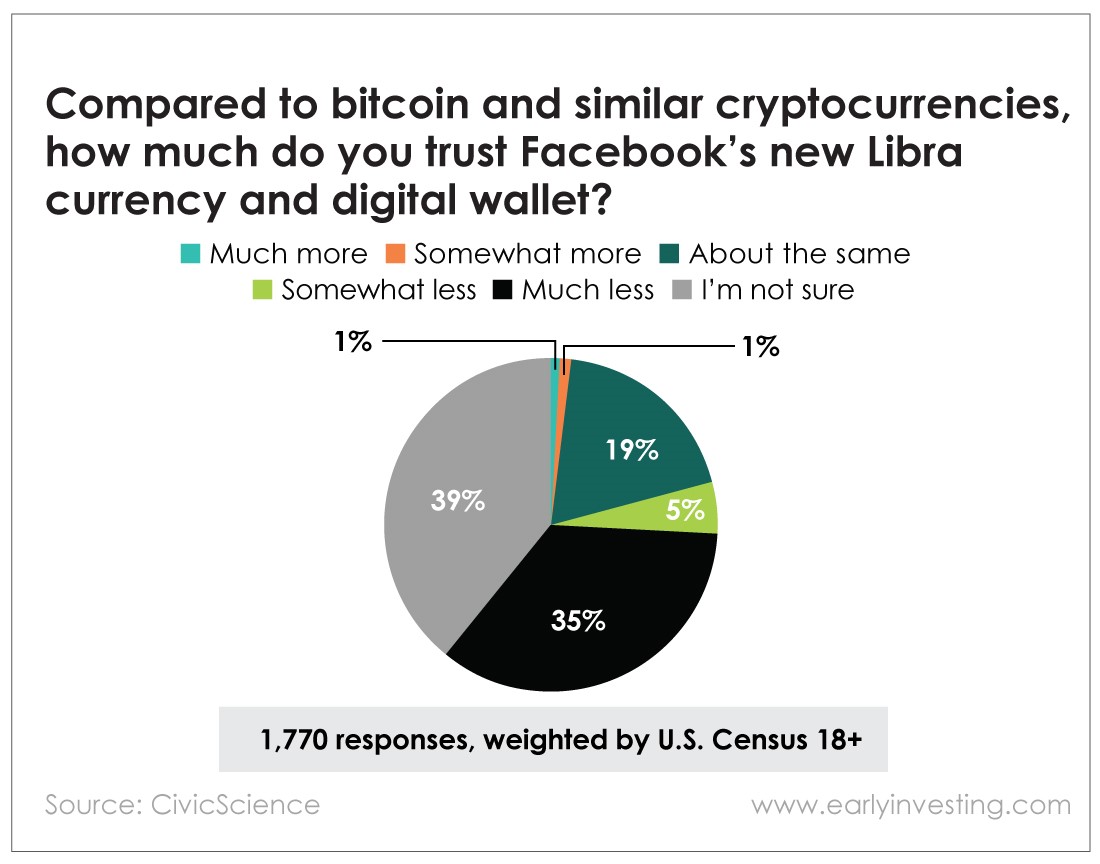 Facebook has a trust issue. But bitcoin doesn't.
CivicScience, a consumer market research firm, polled 1,799 U.S. adults to see how much they trust Libra, Facebook's new digital currency, and Calibra, the accompanying wallet. Forty percent of respondents said they trust Libra (and Calibra) less than bitcoin and similar cryptocurrencies.
This isn't surprising. Facebook doesn't exactly have a spotless track record when it comes to security. Last fall, more than 80 million Facebook users had their data exposed in the Cambridge Analytica scandal. This past spring, Facebook harvested 1.5 million email contacts without user knowledge or consent. And that's not even the full list.
Lawmakers don't trust Facebook either. When David Marcus, the head of the Libra project, testified before the Senate Banking Committee and the House Financial Services Committee earlier this month, lawmakers made it clear they didn't trust Facebook to run its own payment service.
Marcus acknowledged Facebook's past mistakes, saying the company is continually trying to get better. But it's hard to say whether trust will shift in Facebook's favor by the time it clears the regulatory hurdles to launch.
Even if the average person isn't a crypto expert, they understand Facebook. They know Facebook is always collecting data. And Facebook has shown over and over again that it isn't a reliable guardian of that data.
Bitcoin, on the other hand, is easier to trust because it's not governed by any centralized organization. It belongs to the thousands of users around the world who make up its network. So it's not vulnerable to the corruption or security problems that come with centralized currencies.
In fact, all of the discussion around Libra is just increasing investor interest in cryptocurrencies.
Multiple studies have shown bitcoin awareness is on the rise. And more and more people are investing in crypto. Coinbase added 8 million new users in the past year despite the crypto bear market. Bitcoin is gaining mainstream traction.
The irony here is remarkable. With more than 2 billion users, Facebook has power and influence to bring crypto to the masses. The harder Facebook fights for Libra, the more Facebook users will learn about Libra – and other cryptocurrencies. And the more likely they are to adopt decentralized cryptos like bitcoin instead.
Good investing,
Allison Brickell
Assistant Managing Editor, Early Investing