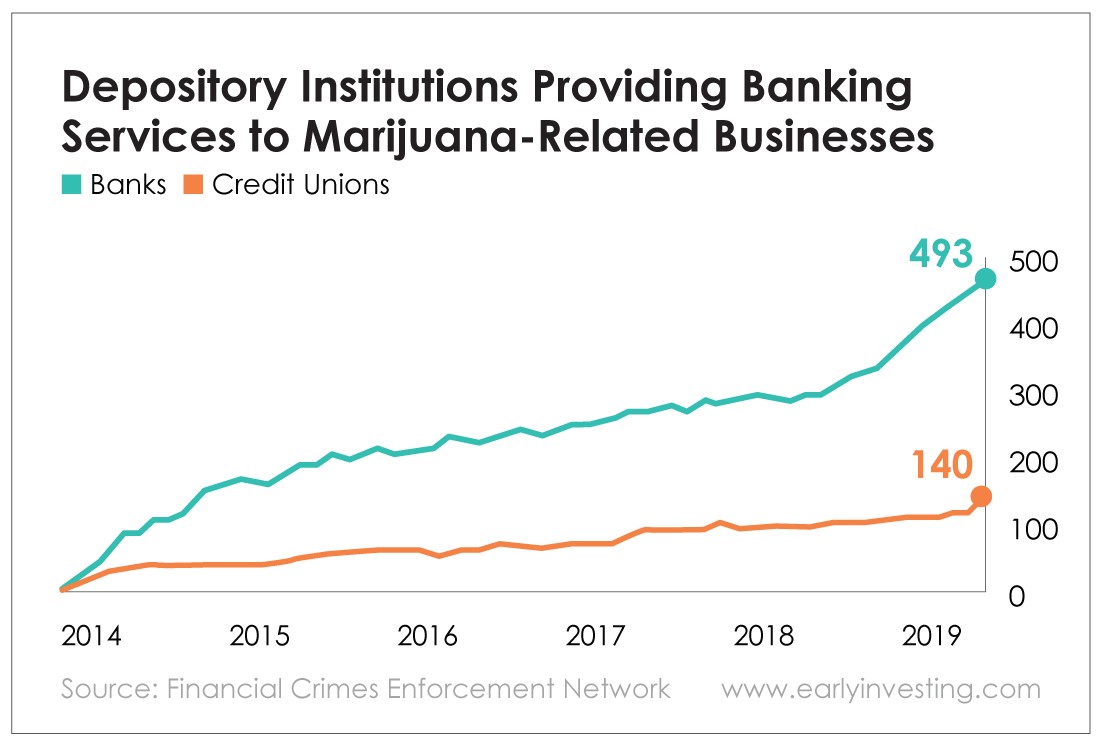 The cannabis industry has a banking problem. Because marijuana is still illegal at the federal level, most banks are unwilling to do business with cannabis companies that desperately need banking services. This forces cannabis companies to conduct most or all of their business in cash, which creates all sorts of problems.
The good news is that's changing.
There's been a clear uptick in banks and credit unions providing services to marijuana-related businesses, according to the Financial Crimes Enforcement Network's (FinCEN) most recent marijuana banking update. There are 633 banks and credit unions serving marijuana companies as of March 31. That's nearly double March 2017's number.
This is a good sign for the cannabis industry. The more cannabis businesses that lock down banking services, the more those businesses will be able to grow… and the more the industry will be able to grow and thrive.
There's still a long way to go, of course. As long as marijuana is illegal at the federal level, marijuana businesses will have to navigate a labyrinth of conflicting laws whenever they cross state lines (or even just cross into the next town over).
But change is happening. And it's not coming just from marijuana activists or cannabis companies. The banking industry wants it too. The American Bankers Association recently sent a letter to top government finance officials asking for guidance on how bankers can lawfully provide services to hemp businesses.
And in response, lawmakers are advancing the SAFE Banking Act of 2019. According to the text of the bill, the act would "create protections for depository institutions that provide financial services to cannabis-related legitimate businesses and service providers for such businesses, and for other purposes."
The bill is currently being considered in the House. But it's already been passed by the House Financial Services Committee and the House Judiciary Committee. And the latter advanced the bill without reporting on it so it could get to the floor sooner.
Hopefully, more government guidance is coming. And the number of financial institutions serving cannabis companies is going to continue its steady climb.
Good investing,
Allison Brickell
Assistant Managing Editor, Early Investing