Milk and orange juice. They've been breakfast staples of the Fix (and America) for a long time. And now both industries are facing an existential crisis.
America's largest milk producer, Dean Foods, filed for bankruptcy this week (CNBC). Dean Foods will remain in operation while it reorganizes and addresses its debt. So don't worry about milk disappearing from the shelves of your grocery store. There's plenty to go around.
Dean Foods hopes the Dairy Farmers of America will buy it out. The two parties are in "advanced" discussions about that possibility.
But even if Dean Foods is acquired, that doesn't change the fact that the milk industry in the United States is in trouble.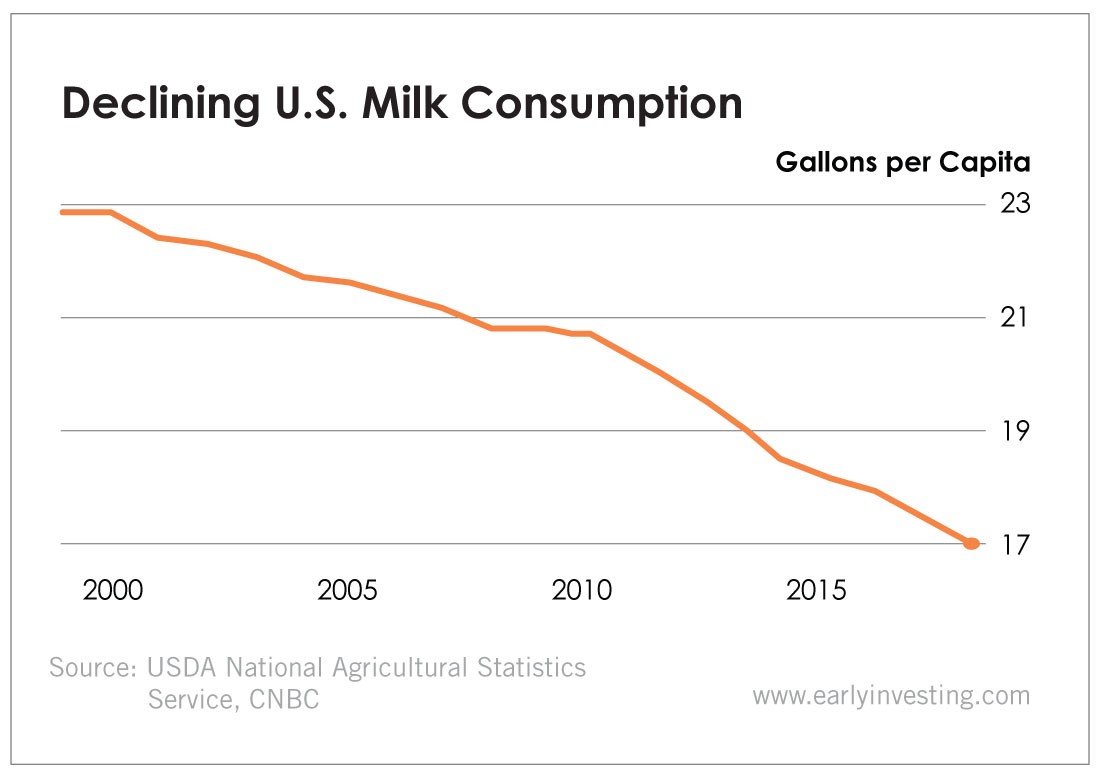 Per capita consumption of milk has dropped about 26% in the U.S. in the last 20 years. Combine that with falling milk prices, trade concerns and labor shortages and you get an industry in turmoil.
So why are people drinking less milk? It's mostly health-related. People are switching to nondairy alternatives. And that's disrupting – and reshaping – the industry.
America's orange industry is dealing with a different type of disruption. Actually it's dealing with two different types of disruption – one short term and one long term.
When Hurricane Irma hit in 2017, it uprooted citrus trees throughout Florida. Juice processors didn't expect Florida's citrus industry to get back on its feet quickly. So they signed three- and five-year contracts with foreign growers.
But Florida citrus growers bounced back faster than anyone expected. And now they have lots of oranges and grapefruits (among other things) to sell. But there's nobody to buy their products (TCPalm).
Florida's citrus industry will survive its short-term oversupply problems. But there's a far more dangerous threat that could kill it for good.
A pathogen (originally from China) called huanglongbing (HLB) has infected 90% of the state's citrus groves. The pathogen prevents fruit from ripening. Scientists have no idea how to kill HLB. And unless a cure for HLB is found, Florida's $9 billion citrus industry could be dead within 10 years (The Washington Post).
Just thinking about Florida's citrus trees going away is depressing. But that's not the point of this story.
There's a reason we focus on disruption in the startup space. When an industry is disrupted, there are billions of dollars on the line. That's why startups that disrupt the status quo are so valuable. The markets they're addressing are immense.
But it takes a savvy investor to understand disruption can come from anywhere. No industry is safe. No product is safe. No sector is safe. You need to keep your eyes and mind open to the possibilities. Disruption is everywhere – if you're willing to see it. And so are the good investment opportunities that disruption creates.