Deal Details

Minimum investment: $1,000
Valuation: $18 million (conversion cap) or 10% discount to next round's price
Raising up to: $1 million
Investment portal: Wefunder
---
I'm going to keep this alert brief.
Our new recommendation, WhiteClouds, just launched on Wefunder late last week and has already raised more than $100,000.
WhiteClouds is an industrial-scale 3-D printing operation. It has $5 million in sales to date and brought in $2.5 million in revenue in 2016. It expects to see roughly $9 million in sales for 2017.
CEO Jerry Ropelato has invested $2.5 million of his own money into the business. This is one of the best possible signals in early-stage investing. Leaders with "skin in the game," aka their own money on the line, tend to outperform expectations.
WhiteClouds builds complex, multicolored 3-D products. Major customers use WhiteClouds for…
Medical modeling
Prototyping
Real estate
Architecture
Gaming
And countless other uses.
Here's a picture of one of WhiteClouds' real estate models:

This level of detail is not easy to accomplish. WhiteClouds has innovative and unique processes that will be hard for competitors to replicate. It has two patents thus far and is developing valuable software as well.
Highlights include…
213% average yearly sales growth
98% customer retention
Live partnerships with Microsoft (Xbox) and others
A number of high-potential deals nearing completion
A 60,000-square-foot operations facility
An experienced team.
Here's a chart showing WhiteClouds' traction: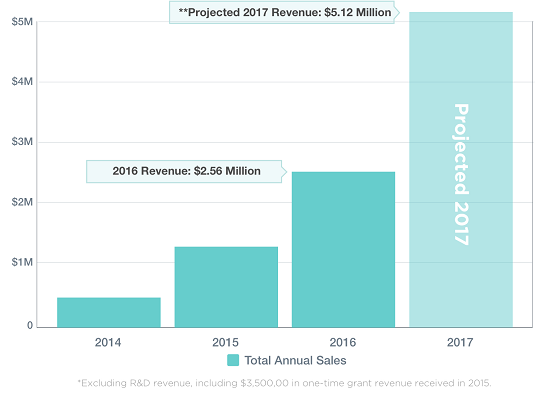 So, why am I so bullish on WhiteClouds?
The valuation is reasonable, executives have serious skin in the game, and the company is producing unique high-quality products. The team has shown serious business development chops in landing large contracts with companies like Microsoft.
My partner Andy and I spoke with Ropelato for about an hour. We came away very impressed with his vision for the business and confident in his ability to execute.
I highly recommend reviewing WhiteClouds' Wefunder investment page. It has one of the better presentations I've seen so far. I also recommend checking out WhiteClouds' website, which shows off an impressive selection of its work.
How to Invest
Create an account on Wefunder if you haven't yet.
Navigate to WhiteClouds' investment page.
– https://wefunder.com/whiteclouds
Click the green "Invest" button and complete your transaction.
How You Can Help
If you know any businesses that do prototyping or modeling, or any that could use multicolored 3-D-printed products, please send them to WhiteClouds.com.
Risks
The market for personalized 3-D-printed products may not be as large as expected. The company could lose executives or fail to raise enough money to continue. These types of risks exist in all early-stage opportunities. We recommend investing in at least 10 – preferably 20 or more – startups to gain sufficient diversification.
Good investing,
Adam Sharp
Founder, First Stage Investor