Deal Details

Security type: Preferred Equity
Round size: Up to $7 million
Valuation: $20 million
Share price: $2.00
Minimum investment: $1,000
Investment portal: SeedInvest
Raise: Series A
---
Of all the things that you can order for free same-day delivery – from meals to mattresses – what's amazing to me is the one thing you can't…
Medicine.
Okay, CVS recently announced it will be providing home delivery service. But it gave customers an immediate incentive to NOT take up the offer.
It's charging "only" $4.99 for the added convenience of home delivery via mail (two to three days) and $8.99 for same day. Still, it's better than Walgreens' $19.95 one-day delivery charge.
What's really needed is FREE same-day home delivery. It's a huge missing piece in the burgeoning on-demand economy.
The retail drug market is mammoth – a $260 billion-a-year business in the U.S., according to a Pembroke Consulting 2016 report. Throw in mail orders for meds, and it expands to a $335 billion-a-year market, according to Pembroke.
We buy our eyeglasses online… our food online… our razors online… our home goods online… our clothes online… and so on.
Online glasses seller Warby Parker is worth about $1.75 billion. The U.S. vision care industry in total was $34.9 billion in 2016 – just over a tenth of the size of the U.S. prescriptions market.
The Dollar Shave Club was bought out for a cool $1 billion. The global men's grooming market was $20.5 billion in 2017, according to Statista. That's 6% of the Rx market in the U.S. Why so small?
Because only 7.6% of U.S. consumers buy razor blades online. How many consumers buy meds?
Try 100%.
So how do companies that sell to everybody do?
Instacart, which delivers groceries the same day, is now worth $2 billion. That's nothing. Grubhub has a $9.5 billion cap.
U.S. grocery store sales amounted to about $641.04 billion in 2017, according to Statista.
That's a market that even Amazon can't ignore. It bought Whole Foods to get into the fresh food delivery business. Can't blame it. In fact, I'm surprised it didn't act earlier.
It's pretty late in the game right now. You'd think all the huge opportunities were off the board.
That isn't the case.
Amazingly, nobody has run away with the free same-day delivery meds business.
Not even Amazon (which clearly has its eye on the pharmacy sector – more on that in a moment).
Introducing NowRx
But one small California company is making a strong play to make this giant market its own.
And that's the company I'm introducing to you today.
NowRx began in 2015. Even back then, this enormous opportunity was hard to miss.
NowRx understood that how drugs were sold was badly flawed. And it correctly believed that the current long-in-the-tooth model would offer little resistance to a tech makeover.
In 2015, there were 64,000 traditional pharmacies. And they dispensed 5.2 billion 30-day prescriptions to customers coming into the store to pick up them up.
As they waited (and waited) for their drugs to be ready, they bought other products.
Yup, that's the model that makes stores like Walgreens and CVS tick.
It's a great model but for the fact that it requires sick and often contagious people to trudge into their stores and buy products as they wait for their meds.
There's little incentive for these stores to become more efficient, much less offer delivery services that would reduce store traffic.
Okay, so how about Amazon?
It recently made a splash with the acquisition of PillPack, a mail-order online outfit that pre-sorts pills into date- and time-stamped packages.
It's a wakeup call for CVS, Walgreens and Rite Aid. But PillPack's "old-school business model doesn't really apply to same-day delivery, nor do we consider it direct competition," says NowRx.
After about 40 minutes of intense back-and-forth discussion with NowRx's two co-founders, I agreed with them. And I found Amazon's increased interest in pharmaceuticals delivery a big positive. The brick-and-mortar stores all have mail-order operations. They're all looking to make their meds-dispensing business more convenient.
And now they're under attack. More than ever, NowRx looms as a possible savior (and takeover target) to these national store brands (and possibly Amazon itself).
After its acquisition of PillPack, Amazon finds itself no closer to copying NowRx's same-day delivery service. It still has to build that infrastructure from scratch, including getting the right licenses. (PillPack's licenses from 49 states are useless for copying what NowRx is doing.)
Amazon could decide to build and license the required network of local pharmacies state by state, but it would have had to do that whether or not it acquired PillPack.
There are several other challenges for Amazon in retail pharmacy…
Prices are determined by third-party payors (insurance health plans). So Amazon can't use its favorite tactic – undercutting the prices of other retailers. Nor can it drive off the competition by offering the widest selection – another favorite Amazon marketing ploy. It simply doesn't apply. Whatever drug is requested, NowRx can easily procure it from its supplier.
While researching Amazon in the days following our little chat, I found out that its licensing forays have been in the wholesaler (and with the PillPack acquisition) mail-order pharmacy space. Both have vastly different business models than NowRx.
Makes sense given the above.
Where Did All the Competition Go?
Who's left?
Three startups focused on free same-day delivery – two on the West Coast and the other operating out of New York City.
I checked them out (of course). NowRx is executing at a higher level and deploying superior technology. And it's the only player to offer one-hour delivery ($5 expedited fee).
That's no guarantee that it will win the market. Things can change.
But, rather incredibly, what it means right now is…
NowRx has this massive $335 billion ripe-for-disruption market space more or less to itself.
It's theirs to lose. Damn, what an opportunity…
But only if the upside is as outsized as it seems. And only if the risks are as reasonable as they seem.
Spoiler alert: They are. This is truly an outstanding opportunity. I've done the vetting.
I can't share with you everything I've learned. I don't want to write a 100-page report. And I don't think you want to read one, either!
But I do want to get into a little more detail with you on the risk/reward equation by answering these four questions…
Is NowRx's market real and really that big?
Does its model to monetize and scale make sense?
Has the company proved it has product-market fit?
Can the founders' execution chops match their rather ambitious growth plans?
For those of you who are new to First Stage Investor, these are the four M's – market, monetization, metrics and management team.
Taken together, they cover a lot of the research I do. But before giving you a quick rundown of the four M's, you should know exactly how NowRx is attacking the brick-and-mortar pharmaceutical industry.
Automating Prescription Delivery
The company has developed an end-to-end fully automated dispensing process. It's driven by robotics and artificial intelligence.
With a lightweight physical imprint and the latest tech tools, it operates at a fraction of what it costs traditional pharmacies to sell to the public.
NowRx has one location so far, in the San Francisco Bay area. It's supported by a single warehouse. And its prescriptions can be ordered via the NowRx app, text, fax, email, telephone or through technology assistant tools such as Google Home.
To date, the company has filled more than 28,000 prescriptions for more than 5,900 customers.
It plans on expanding its geographical footprint… beginning by covering the entire San Francisco metropolitan area. Los Angeles is next… followed by other West Coast locations like San Diego and Washington.
Eventually, the company wants locations in the top 20 cities in the U.S.
The added convenience alone should be more than enough to attract customers.
According to a 2013 study, the median wait time at a pharmacy is 45 minutes. A third of visits require a second trip back.
NowRx's free same-day delivery eliminates all that.
Its services also increase the likelihood of timely prescription fills… encourage medication adherence… and reduce the number of missed refills.
Doctors also stand to gain. For example, its automated manufacturer coupon software automatically identifies and applies manufacturer coupons (without the physicians having to manage physical coupons). And its streamlined insurance prior authorization process reduces the time physicians spend obtaining insurance approvals.
NowRx has built a group of 1,300 physicians who refer patients to it. That's an increase of 140% since 2016.
This is key. The more doctors who provide references, the faster the company can grow.
And now, here's my take on the four M's.
The Market. What can I say? It's huge. It's getting bigger. And it's not going away.
Mainly because it's part of a broader and firmly established trend: The rapidly expanding on-demand economy.
Research firm Crowd Companies says that more than 280 companies provide on-demand goods and services today, compared to 76 companies just two years ago.
The on-demand economy is attracting more than 22.4 million consumers annually. It's no longer confined to early adopters, either. It's attracting mainstream consumers who want their platforms to be user-friendly, safe and fast.
At the same time, traditional retail pharmacy is a $260 billion industry that's growing by $20 billion a year.
Prescription usage should continue to grow, thanks to aging boomers, increased life expectancy and an expanding universe of people eligible for the Medicare prescription program and new drug therapies.
NowRx has hitched its wagon to a market with two powerful drivers – one external to Rx and one internal to Rx. Nice.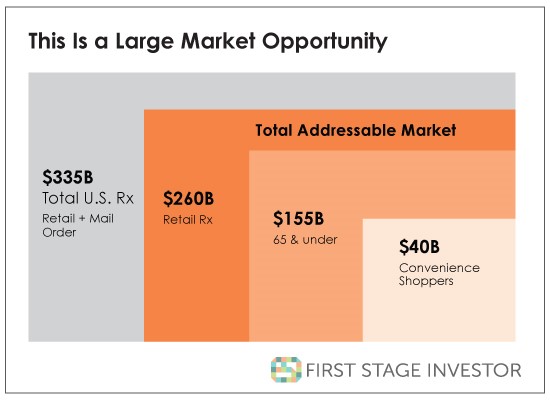 Metrics. Revenue has jumped 274% from $665K in 2016 to $2.49 million in 2017.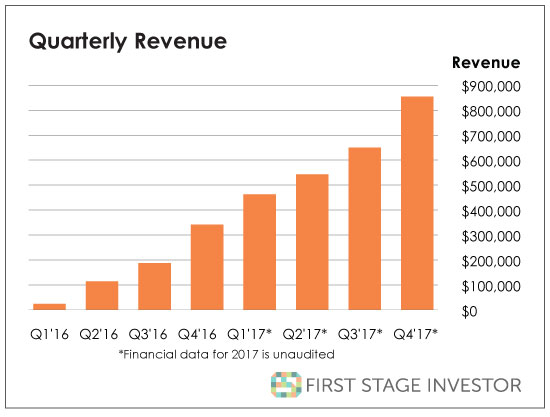 Revenue in the most recent months is coming in at an annual clip of $3.9 million.
Customers and referring physicians are showing impressive growth…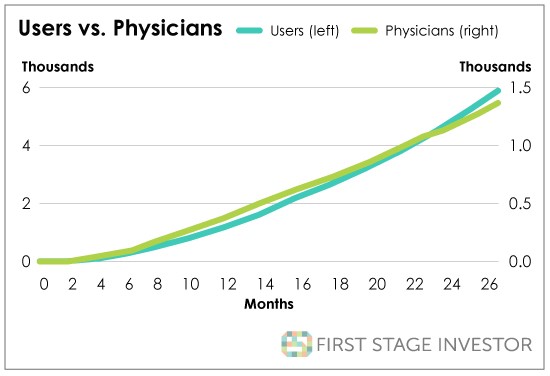 Doctors are not only increasing in number, but the existing ones are also increasing their referrals…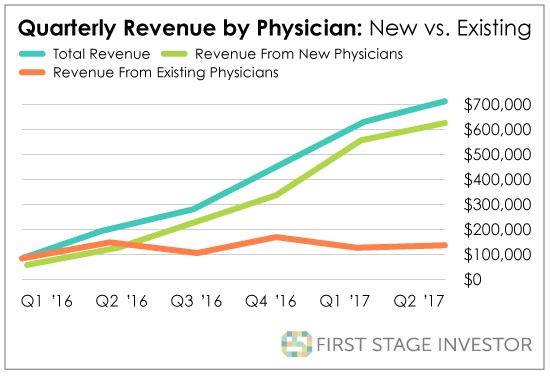 It means they're happy with NowRx's services because of the time it saves them or the feedback they're getting from their patients… or both. Either way, it's a strong positive sign. As I've mentioned, physician referrals drive growth.
The company had a gross profit of $172K last year. But the money it spends remains higher than the revenue it makes. NowRx doesn't expect to make an overall profit for several more years, which is typical for companies this early on.
At this stage of development, it's more about increasing customers, sales and sales channels and proving product market fit. NowRx has made excellent progress on all these fronts, including indications that it can scale.
Monetization. We've already seen NowRx effectively monetize its growing group of referring physicians. Making doctors happy is just as important as making customers happy.
But how about those customers? Are they or can they be effectively monetized? The early evidence says yes – through repeat orders. Right now, their lifetime value is $339. At an acquisition cost of $40, a multiple of 9.2 shows strong monetization of NowRx's customer base.
What I'd like to see next is steps to monetize the customer data it's collecting. It's fully aware that its business automatically generates a substantial database of medical prescription data.
"It's some of the most valuable healthcare data available." Those are NowRx's words, not mine. The company understands its potential and plans to develop powerful tools to leverage it.
Management team. Cary Breese is the co-founder and CEO. He's equally knowledgeable in data management/analytics, health insurance, as well as growing small companies and enterprises into much bigger ones. In this latter capacity, he's gained valuable experience in ops, financing, marketing and sales, and risk management. One of his more impressive accomplishments? Taking over a struggling insurance unit – Trafalgar Insurance Services – and returning it to profitability before selling it for an 18X (cash over cash) profit.
His co-founder and chief technology officer is Sumeet Sheokand. Cary met Sumeet while they both worked at GenieDB, a tech startup that provided distributed MySQL database-as-a-service to enterprises. Cary was the CEO and Sumeet the CTO. The partnership proved so successful that both were eager to join forces again in this new venture. Sumeet brings a versatile skill set from his technology management work in a number of enterprises.
Cary and Sumeet complement each other extremely well. They make an effective team, with the right blend of entrepreneurial, industry-specific (health, insurance, data) and technical experience to lead NowRx to greater heights.
Everything considered, NowRx represents one of our stronger investment opportunities. It's executing its on-demand delivery model beautifully. It has formulated a well-thought-out pathway to scaling. The opportunity is unusually large and – as Amazon's recent foray into the prescriptions mail-order business makes clear – ripe for disruption.
"Amazon and its recent acquisition validates our business model. Our $400 billion-plus prescriptions market is being disrupted as we speak," says Cary.
In short, it has made a great start, at once timely and effective.
I'll say it again… This market opportunity is its to lose. Here's how to invest.
How to Invest
If you're already registered with SeedInvest…
Click on the blue box labeled "Sign up to invest."
You will then be asked a series of quick and easy questions to execute your investment.
The first one is "How much do you wish to invest?" NowRx has set the minimum investment at $1,000. You can invest more, but you can't invest less.
Follow the instructions and choose your preferred payment method. Complete the process and, if you run into any problems, email SeedInvest at contactus@seedinvest.com.
If you're not registered with SeedInvest…
Go to seedinvest.com and click "Sign up."
Once registered, search for "NowRx."
Editor's Note: If you're new to First Stage Investor, or if you just need a refresher on how to invest in startups through portals like SeedInvest, check out our video tutorial "Investing in Startups Through Online Portals."