Deal Details
Minimum investment: $50
Investment type: Crowd SAFE (convertible note)
Valuation cap: $3 million
Deadline: October 27, 2017
Investment portal: Republic
---
Dear First Stage Investor,
We are living in an increasingly on-demand world. People want and need things right away.
This is especially true on college campuses across America. Students are balancing classes, work and other extracurriculars on a daily basis, and sometimes they just don't have the time, energy or transportation to get somewhere to get the things they need right away.
Even traditional delivery platforms like Amazon can take too long, as college students and professionals are located in buildings or on campuses not easily accessible by the public.
Enter Jetpack…
Jetpack is building on this growing on-demand marketplace by targeting college students. Its unique solution?
Stock student sellers with important products in a backpack they can use everyday
Use tech to connect sellers to students who need products right away.
Jetpack's initial target market is college campuses, where it pays college kids to sell and deliver goods to their fellow classmen.
Jetpack is launching on seven college campuses this fall…
Stanford
Rutgers
Cornell
Johns Hopkins
University of Virginia
Miami University
Menlo College.
I believe colleges are the perfect environment to launch a service such as this. Primarily because it's difficult for traditional delivery companies to navigate a college campus. The students are the best "last mile" delivery option here, and Jetpack has an excellent plan to take advantage of this.
Eventually, Jetpack plans to expand beyond colleges, but for now it's on an excellent launch pad.
Back to the model… Jetpack provides its "Jetpackers" with a backpack stocked with popular items. Orders can be made through the company's mobile app or by text message.
Jetpack's location-matching algorithm then finds the closest Jetpacker who has the item ordered and dispatches them to the buyer. The company aims to fulfill deliveries within 15 minutes.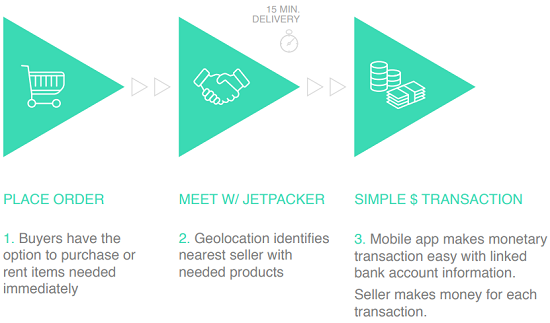 Sponsored Inventory
One of the cleverest things about Jetpack's model is its corporate partnerships. It has made agreements with companies that sell products the college demographic wants.
These relationships will allow Jetpack to sell items it receives at a discount or for free. (It could even receive a promotional fee for distributing.)
Here are a few of the companies that Jetpack is working with:
GO CUBES (chewable coffee)
CHRGR (a First Stage Investor portfolio company you can read more about here)
Procter & Gamble (personal and household care products)
Zorpads (shoe odor elimination)
Cora (personal products)
Sambazon (organic energy drinks and juices)
Blowfish (hangover remedies)
RXBARs (100% natural snack bars)
Goodwipes (flushable wipes).
The Jetpack business development team is busy adding new partners, as it highlighted in a recent blog post here.
Leadership
Jetpack was founded by Fatima Dicko, who studied chemical engineering at Columbia University and is currently attending Stanford Business School.
Fatima was the youngest senior engineer at Procter & Gamble's upstream innovation team.
She is a dynamic and charismatic leader, and I came away from our discussion extremely impressed.
The team is rounded out by lead developer Jayden Windle and Finance and Data Officer Lawrence Morris.
Traction
Jetpack is a pre-revenue startup. It's launching on seven college campuses this fall.
The valuation for this round of funding is capped at $3 million. By investing in this very early stage, you're taking more risk in exchange for more potential reward.
The company did complete a beta test on the Stanford University campus in May of this year with promising results. The company achieved more than 2,000 application downloads and 300 orders, with an average delivery time of seven minutes.
After processing all the feedback from this test, Jetpack retooled its ordering system and app.
The company is now raising a $500,000 round, with more than $200,000 raised so far. It has attracted the interest of several venture capital firms and secured an investment from Rough Draft Ventures, a division of General Catalyst.
Jetpack was also invited to work out of Maveron's offices this summer. Maveron is one of the leading consumer-facing VC firms in the world, and the fact that it's expressing interest at this very early stage (earlier than it's investing) is an excellent sign.
With the completion of this round on Republic.co, Jetpack will be well-positioned to accelerate its current campus rollout plan.
During these early days, Jetpack has kept its burn rate (money spent) extremely low. Its monthly burn rate is currently around $6,300 per month. This will likely increase as the campus rollout continues, but it is encouraging to see a disciplined approach to spending thus far.
How to Invest
Editor's Note: If you're new to First Stage Investor, or if you just need a refresher on how to invest in startups through portals like Republic.co, check out our video tutorial.
If you haven't registered on Republic.co yet, you can do that here…
If you don't want to register with Facebook or Twitter, select the "Sign up with email" option.
Andy and I have known the team at Republic for more than a year now, and it's one of the most well-run equity crowdfunding portals in the U.S. You can invest with confidence on its platform.
Now that you're registered and logged in, navigate to the Jetpack investment page…
Click on the blue "Invest in Jetpack" button in the upper-right-hand corner. Choose your desired investment amount and preferred payment method (bank debit or credit card) and complete your investment.
Risks
Jetpack is an early-stage investment, and as such it carries significant risk. This is a pre-revenue startup, so do not invest anything you can't afford to lose.
This is not a liquid investment. You should expect to hold it for years.
Like all early-stage companies, there is a risk that the business won't succeed. It could run out of money or fail to attract enough customers. While we're confident in the company's ability to execute, we don't want you to invest any money (in this or any other startup) you can't afford to lose or will need in the near future.
Invest early and well,
Adam