Thanks to a tiny New York City-based company called Monogram Orthopaedics, a new and brighter future of orthopedics is just around the corner.
Monogram is making "perfect-fit" implants by leveraging the latest breakthroughs in the three technologies that will be changing everything about how we live and work over the next five to 10 years: robotics, machine learning and AI (artificial intelligence), and 3D printing.
Each technology on its own represents a huge market that I fully expect will spawn at least a dozen or so unicorns. 3D printing is growing rapidly and will be worth more than $12 billion by 2020. Robotics is set to grow into a more than a $275 billion industry by 2025. And AI is expected to reach a market size of $3.9 trillion by 2022!
Here's the thing, though. Healthcare is bigger than all of them combined.
By 2022, this fast-expanding market is expected to total more than $10 trillion. What I've found in my years of following companies that unleash disruptive technologies is that the bigger the market (that's being targeted), the higher its growth ceiling.
Monogram's upside is impressive. But, of course, potential upside is one thing. Realizing that upside is quite another.
I've spent hours looking at EVERYTHING Monogram is doing (and is planning to do). I've had several conversations with the company's founders, Dr. Douglas Unis and Benjamin Sexson. I challenged them to convince me that their plan to revolutionize the orthopedics industry was doable and that they have what it takes to succeed. I warned them not to exaggerate, because I've talked to thousands of founders and I see right through that spin.
My conclusions? The 50-year-old orthopedics industry needs some serious surgery.
It's ruled by a cartel of four legacy companies incapable of instituting serious change. Technologically, the industry is still in the 20th century. In terms of products, implants are shockingly flawed… by design.
Patients get to choose among geometrical shapes to match an organic fit. And they come in only two widths, which is beyond ridiculous. Why should implants be a two-sizes-fit-all scenario?!
But that's not even the most outrageous problem. Right now, patients have to choose whether they want an implant that fits well or one that's easy to put on. Unbelievably, current surgical practices can't accommodate both.
The end result? One in every 5 patients is NOT satisfied with the results of their joint replacement. That's really bad.
These legacy companies are NOT going to fix these problems. They lack the full range of technology needed to change things. So there's a huge opportunity for Monogram, which has the technology to disrupt this industry with vastly superior implants.
An Incredibly Well-Thought-Out System
Monogram provides an end-to-end solution with its proprietary advanced surgical robotic system, 3D-printed patient-customized perfect-fit implants, automated digital image analysis algorithms, cutting tools and a proprietary camera system (that enables difficult cut paths and insertion accuracy). All of Monogram's tools are designed to work together through its sophisticated and proprietary software.
Monogram's technology is highly advanced AND proven. Two years ago, Monogram could not do what it's doing today. The technology simply wasn't ready.
3D printing wouldn't be able to make an implant both sufficiently strong and pliable to be used in knees or hips. The robotics were technically available a couple of years ago, but not in the current proven and debugged form.
AI has advanced by leaps and bounds as well, allowing Monogram to develop algorithms that take raw images of a hip or knee and auto-generate perfect-fit implants. Those implants are then integrated into its robotic surgery system.
It's still not easy to do today! But two years ago, it would have been impossible.
Technology adoption is always an issue. New and better is exciting on paper, but even when it makes sense and juices everybody's bottom line, adoption can be painfully slow. But robotic surgery, in some shape or form, has been around now for more than five years. It's invaded the province of orthopedic surgeons, but with little impact so far. And almost all the robotically inserted implants these days can also be inserted with manual instruments.
But adoption is about to break out. Robotic surgery no longer raises eyebrows of hospital staff. Surgeons have grown comfortable with it. Orthopedic surgeons should be more than receptive to Monogram's robotic surgical system.
To show you what I mean, look at the chart below. Based on conversations I've had with several industry insiders, I can tell you robotic surgery has climbed about halfway up the "Early Majority" segment of the bell curve.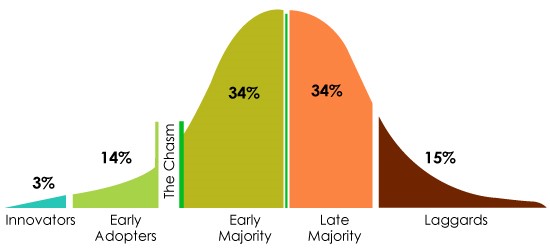 The result is a rare convergence that is almost too good to be true. Technological advancement in key fields, pre-peak user adoption and lack of innovation among legacy companies have created a first-to-market opportunity of immense proportions.
And only Monogram is jumping into the ring.
Implant Surgery Reinvented
Monogram will start out making perfect-fit hip replacements, soon to be followed by knee replacements. I can't tell you how exciting (and financially rewarding) it is to invest in a company that is bringing breakthrough technology to the masses.
Here's how it works…
Doctors take a series of CT scans to get an ultra-high-resolution "map" of the patient's hip or knee. Next, advanced AI software analyzes the scans and sends precise instructions for generating a titanium implant to a 3D printer. Once the implant is ready, it's time for surgery. The company's robotic device is fed the same detailed instructions to make a precise cut to insert the perfect-fit implant into the patient's affected area.
Tests show that Monogram's hip replacement surgery provides SEVEN TIMES greater bone contact than conventional methods and results in a SEVEN TIMES improvement in stability at the outset of post-operation recovery. Monogram has also tested its knee implants with similar results.
Monogram Passes My Four M's And Then Some
The company easily passes my four M's startup screening criteria.
First, management is serious and determined.
One of its founders, Douglas Unis, is also its chief medical officer. He has more than 15 years of experience in the trenches of the orthopedic medical field.
He's a professor and a practicing surgeon at Mount Sinai, and he graduated from Duke and Case Western Reserve.
He's also consulted at orthopedic industry giants, including Zimmer Biomet and Think Surgical.
The advisory board includes NASA scientists… engineers from Columbia and Georgia Tech… and prominent New York City venture capitalists.
And the CEO (co-founder Benjamin Sexson) is a successful serial entrepreneur who previously helped turn around Pro-Dex (a high-tech manufacturing company) from a struggling $10 million firm into a thriving $58 million business.
This is a highly professional company that knows how to roll out breakthrough solutions…
It also knows how to build hypergrowth new businesses.
And now it's doing it again.
Second, it's operating in a massive market.
Nearly 10,000 baby boomers turn 65 years old every day!
That means a lot of attention and a lot of money are about to flood into this sector.
The global joint replacement market was estimated to be about $18 billion in 2016. It should go through the roof in the coming years.
Considering that there's not a single product on the market… anywhere… of any kind… that actually offers custom-generated implants fitted into perfectly carved out spaces…
This company promises to do extremely well.
Let's say it captures just 3% of the $18 billion-plus market. (And I think that percentage is on the dramatically LOW side.)
My estimates show this company would grow 122 times higher than its current valuation of $21.25 million.
That's enough to turn a tiny $500 stake into more than $30,000, or a $5,000 stake into more than $300,000.
Finally, metrics and monetization indicate unusual upside.
Monogram's "burn rate" is just $20,000 per month. That's extremely low for any startup. For a startup in the medical field, it's almost impossible.
That tells me the founders aren't taking cash out now. They know the real payday is yet to come. And if they play their cards right, it could very well come much sooner as opposed to later.
How soon?
As you can see, it doesn't take that many surgeries for Monogram to start making serious money…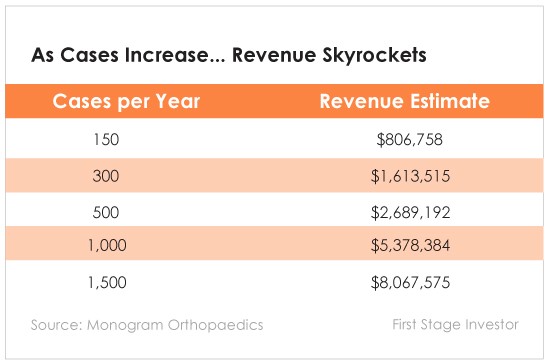 I expect it to start making plenty of money once it gets FDA approval.
I urge you right now (if possible) to go to the SeedInvest website where you can invest in this remarkable company. Its share price is only $4. So instead of having to write a check for $25,000 or $100,000 like you typically would for a company of this quality, your minimum investment is just $1,000. A stake that size could easily grow into more than $60,000.
How to Invest
This is the power of early investing. You get to invest in companies you never had access to before… until recently. And you invest with the same kind of upside as venture capitalists. When you reserve a spot in Monogram Orthopaedics, the company will automatically tell you when it's accepting investments.
Just go to the site right here and click the blue "Sign Up to Invest" button. Then put in the amount of your choice, a minimum of $1,000 or more if you wish, like $2,000 or $5,000 – whatever you're comfortable with. If you don't already have a SeedInvest account, you'll need to sign up for one.
Then choose your payment option and make sure you complete all the steps.
If you run into any problems, email SeedInvest at contactus@seedinvest.com.
And then sit back and watch this amazing company reinvent how joint replacements will be done for the next 50 years.
Risks
As with all early-stage investments, there is significant risk the company could fail. It could fail to secure further funding, lose important revenue streams or have any number of other things go wrong.
This is the nature of early-stage investments. You should not invest any money you can't afford to lose.