Our newest recommendation is Barrow's Intense Ginger Liqueur. This growing company is based in Brooklyn. I met the founder, Josh Morton, last year at a startup event in New York City where I was judging startup pitches.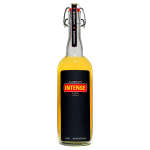 Josh and I connected immediately. He understood the power of equity crowdfunding and said he'd like to do a raise down the road. So I introduced him to the guys at Wefunder.com, and the deal is now live.
At that same event in New York, I sampled Barrow's unique ginger liqueur and was blown away by the flavor. Slightly sweet with a strong, pleasant ginger kick.
As I talked more with Josh, it became clear that he has a deep understanding of what it takes to market and distribute this product. The distribution of alcohol is more complicated than I had imagined, but this team has it under control.
Barrow's landed a promotional deal with national restaurant chain Benihana, where its ginger liqueur product is featured on the cocktail menu. It has turned out to be one of Benihana's most successful cocktails ever, and the deal was recently renewed.
The Barrow's team is hard at work expanding distribution to more bars, liquor stores and restaurants.
As you can see from the chart below, growth so far has been impressive.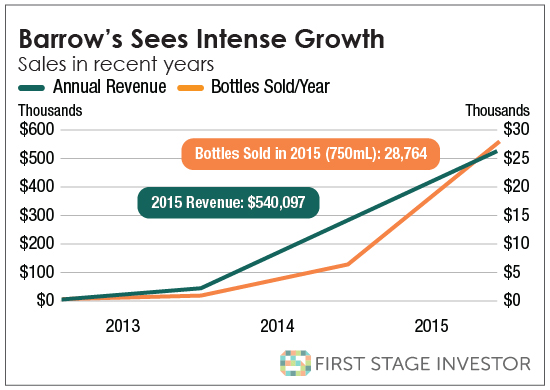 Highlights include…
Attractive acquisition target for liquor "majors"
80% annual growth over the last two years
66% gross margins
Ginger popularity (as Americans are warming to spicier food and drink)
Strong leadership and advisors
Clear growth path.
Recommendation: Barrow's Intense Ginger Liqueur
Valuation: $4 million (pre-money)
Minimum Investment: $200
Invest on Wefunder here:
https://wefunder.com/barrowsintense
If you haven't yet signed up for a Wefunder account, you can do so here:
In terms of payment options, a direct withdrawal from your bank account will have the lowest fees. You can also wire funds, although fees may apply.
How You Can Help
One of our goals here at First Stage Investor is to "add value" to our portfolio companies. This is completely voluntary, of course. But if we all pitch in when and where we can, it will help the startups we recommend and benefit everyone.
On that note, if you know any bartenders, restaurant or liquor store owners, or others who may be interested in Barrow's Intense Ginger Liqueur, please email the Barrow's sales team at info@barrowsintense.com.
The Inside Scoop
Lastly, I have highlighted three key questions and answers from Barrow's Q&A section on Wefunder.
Q: What are your plans for the fundraise money?
A: We will start by producing our minis – 50ml bottles. These mini-bottles are a friendly, low-commitment-level way for potential customers to taste our product. Once the ginger hits their tongues, we're confident they'll remember us and look for it on the shelves of their local corner store. This should help build our off-premise business.
The funds will also be used to test our Team Intense field marketing in three markets. Team Intense will focus on building our on-premise accounts through menu placements and awareness within the trade. We will use the feedback we get from this initial testing to further develop our on-premise activation programming.
Q: What's the grand vision for Barrow's Intense?
A: Barrow's Intense will become a staple in the spirits category.
We want to do for craft liqueur what Sam Adams did for craft beers. Sam Adams spearheaded a movement for craft beer to take over bar taps. And now you can't walk into a bar without having at least a handful of craft options available. The same thing is happening with craft spirits. Barrow's Intense will be that craft liqueur you need on your shelf.
Q: Who's your biggest competitor? How do you stack up?
A: Our No. 1 competitor is Domaine de Canton, a French ginger liqueur. Its product is cognac-based, so the flavor profile reflects that, along with notes of honey and other flavorings. Barrow's Intense has been and always will be all about the ginger.
Organizationally, as part of a larger conglomeration, our competitor has more resources, but being part of a massive organization can diffuse focus. Barrow's Intense is singularly focused.
And it's important to note whenever we've done a taste comparison against our competitor, Barrow's Intense has never lost. In fact, numerous high-end restaurants and bars in Manhattan and around the country have replaced Domaine de Canton with Barrow's Intense.