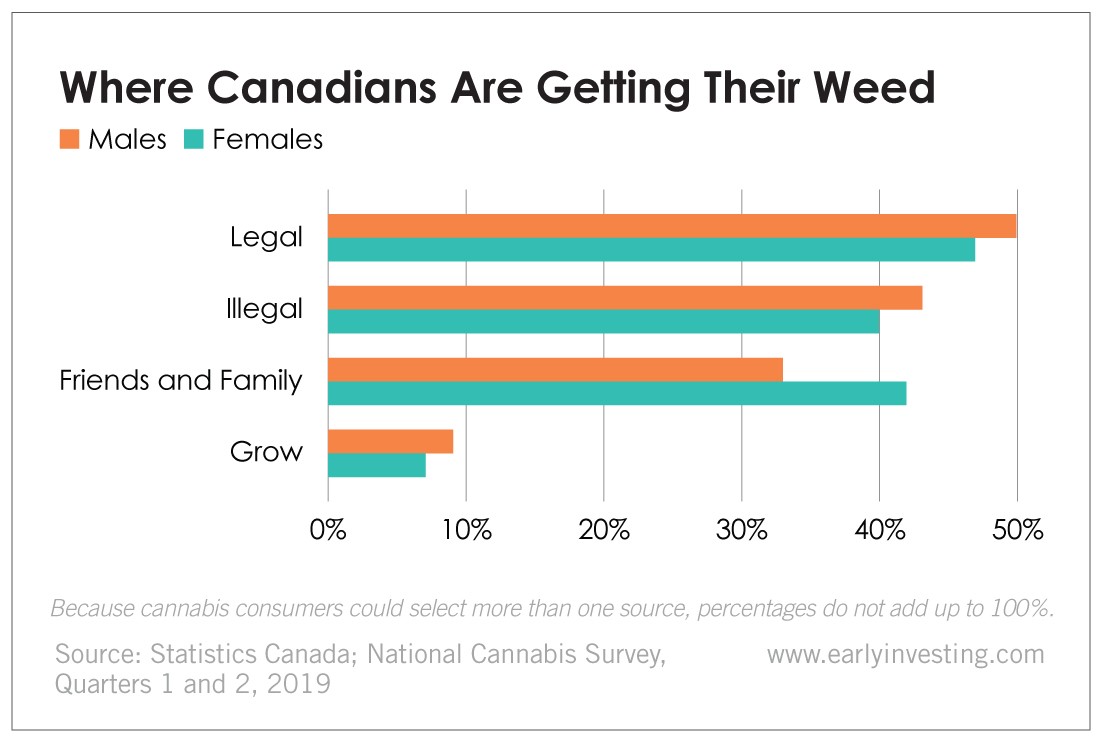 Since marijuana has yet to be federally legalized in the U.S., American investors often turn to Canada for their cannabis stock investments. The two biggest cannabis stocks by market cap – Canopy Growth Corp. and Aurora Cannabis – are Canadian. And many other major cannabis companies are headquartered there as well.
These companies are global in nature. But they rely on the Canadian market for substantial revenue. So that makes it imperative for investors to learn everything they can about cannabis in Canada, including Canadians' consumption habits. That's what today's chart is all about.
Statistics Canada conducts a National Cannabis Survey every three months measuring cannabis use and related behavior. In the second quarter of 2019, the organization found that about 4.9 million (or 16%) of Canadians aged 15 and older reported using cannabis.
It found that roughly the same number of female and male respondents purchased their weed from both legal and illegal sources. But a higher percentage of both groups reported getting at least some of their cannabis legally. And 48% of all cannabis consumers reported purchasing at least some of their weed legally (such as from an authorized retailer or online producer) compared with 42% who purchased at least some of it illegally. And more women than men reported getting marijuana from friends and family. (Respondents could choose more than one option, so the numbers don't add up to 100%.)
As a whole, the legal Canadian market got off to a bit of a slow start. But things are picking up. Adult-use cannabis sales reached a new high in June, surpassing CA$85 million ($63 million). Sales have increased in Ontario, Quebec, Alberta and British Columbia – the most populous provinces in the country.
And legal sales will only grow from here. The Canadian government recently revealed regulations to enable the sale of cannabis edibles, extracts and topicals starting this fall. That will help unlock a multibillion-dollar industry.
It will take time for Canada's legal market to dominate its illegal market. But the legal market is making strong gains.
Good investing,
Allison Brickell
Assistant Managing Editor, Early Investing