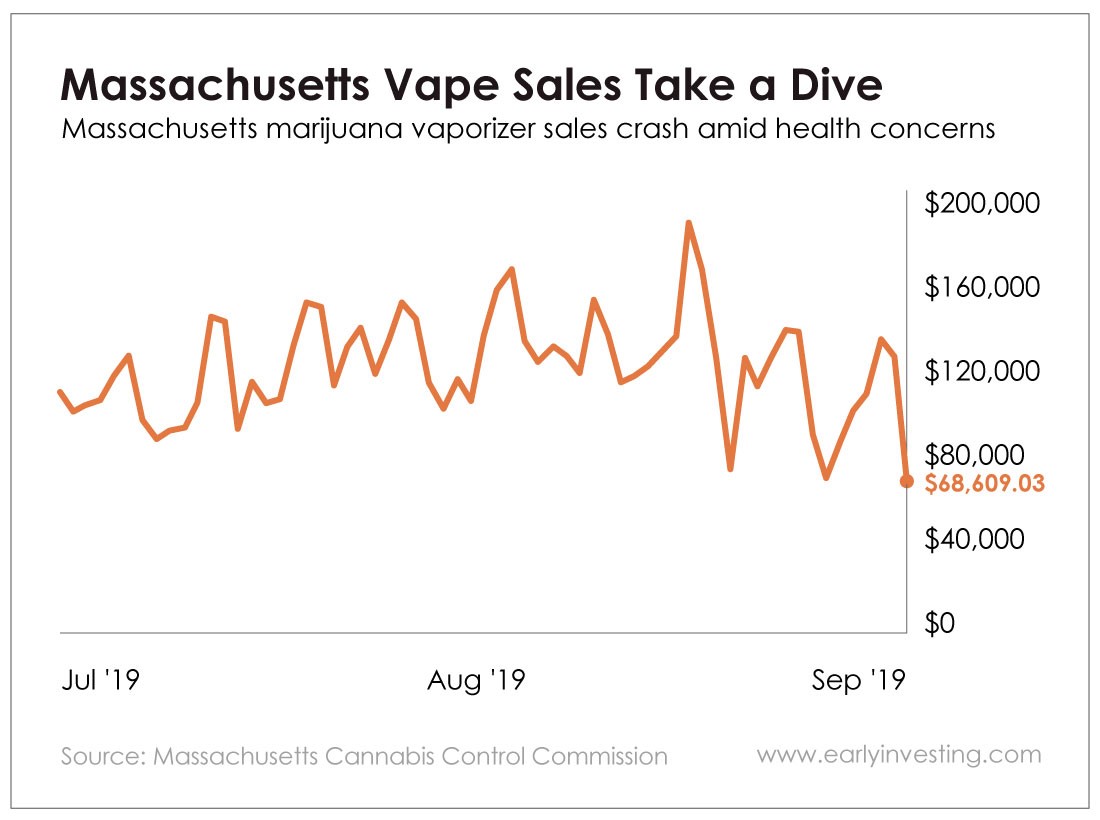 Massachusetts marijuana vape sales have taken a dramatic dive amid national vape-related health concerns. And Juul, the company that holds nearly 75% of electronic cigarette market share, is reacting in a way that reminds us an awful lot of the tobacco industry.
Weekly sales of oil-filled vape cartridges dropped from a recent peak of $919,776 in mid-August to $689,924 two weeks ago, according to the Massachusetts Cannabis Control Commission. Sales on September 15 were $68,609 – the lowest in two months.
The decline happened despite four new pot retailers and two medical marijuana dispensaries opening during the same period – and despite the fact that vapes are the second-most popular marijuana product after cannabis flower.
That's because health concerns are starting to freak people out. The Centers for Disease Control and Prevention just confirmed the eighth vaping-related death in the country. And more than 500 cases of lung illnesses linked to vaping have been reported across 38 states and one U.S. territory.
Though Juul and other e-cigarette companies frequently market their products as a healthier alternative to cigarettes, we still don't know the long-term effects of vaping. Amid the health concerns, lawmakers are urging the Food and Drug Administration to pull Juul products off the shelves. And Juul is not exactly offering an optimistic take on the situation.
In an interview with CBS at the end of August, Juul CEO Kevin Burns discouraged nonsmokers from using Juul products.
"Don't vape. Don't use Juul," he said. "Don't start using nicotine if you don't have a preexisting relationship with nicotine. Don't use the product. You're not our target consumer."
When CBS host Tony Dokoupil asked if it was fair to say that Juul is safer than cigarettes, Burns wouldn't say. But he did say that if Juul knew its product was toxic or dangerous, it wouldn't be selling it.
This sounds awfully familiar. The tobacco industry is notorious for denying the harmful effects of smoking – to the point of claiming its products actually reduce the risk of cancer. But science and medical evidence show just the opposite.
The science isn't in on Juul yet. There are still other potential causes for the mysterious disease, including bad extracts. But Juul positions itself as a cigarette alternative. And it seems to be following the same script the tobacco industry has for decades. (In fact, the company has taken billions of dollars from Altria, the seller of Marlboro, in the form of investments.) And with the sudden rise of vape-related illnesses and deaths, Juul is looking more than a little guilty.
But Juul can't count on the marijuana industry to sit idly by. Yes, Juul sold $1 billion worth of product in 2018 – up from around $200 million in 2017. But unlike Big Tobacco, the general culture of the marijuana industry is to do everything in its power to make weed as safe as possible. And if it turns out vapes are harmful, you'll likely see the rest of the marijuana space turn on Juul in a hurry. That's what makes these vape concerns just the latest bump in the road for the marijuana industry. In the end, the industry will continue to expand.