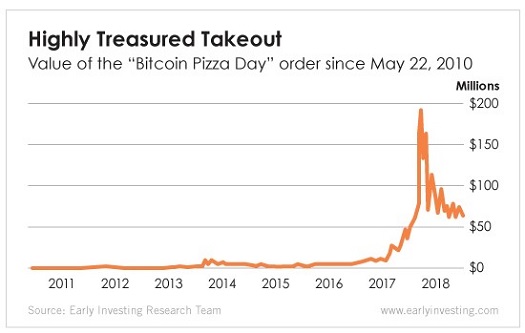 The Early Investing team has been eating a lot of pizza recently as we try to figure out ways to improve the service for our members (we'll keep you posted on our progress on that front).
But all of that pizza got us thinking about Bitcoin Pizza Day.
On May 22, 2010, programmer Laszlo Hanyecz paid 10,000 bitcoins for two Papa John's pizzas. It was the first reported transaction exchanging bitcoin for a consumer product – a major breakthrough for the cryptocurrency.
At the time, bitcoin was incredibly cheap. Ten thousand bitcoins were valued at just $25.
I can just see investors looking wistfully into the distance…
These days, the "Bitcoin Pizza Day" order would have a very different price tag.
Today, that pizza order would be worth around $66 million.
In 2013, Hanyecz told The New York Times, "No one knew it was going to get so big."
But isn't that always the way it goes with game-changing technologies? At one point in history, the telephone seemed like an absurd idea… as did cars, radio, the internet and a dozen other now-ubiquitous technologies.
Of course, bitcoin has had its detractors. We've often highlighted some of JPMorgan CEO Jamie Dimon's mostly tone-deaf condemnations of bitcoin. And Goldman Sachs Global Head of Investment Research Steve Strongin said in February, "Whether any of today's cryptocurrencies will survive over the long run seems unlikely to me, although parts of them may evolve and survive."
But fast-forward to today… Bitcoin is trading around $6,600. SEC Commissioner Hester Peirce voiced her support for the institutionalization of bitcoin. Dimon has switched to waffling about crypto. And Goldman Sachs has changed its tune.
In August, Jamie Dimon – who goes back and forth on his crypto criticisms – said JPMorgan is testing blockchain and "will use it for a whole lot of things." And Goldman Sachs, despite putting its crypto trading desk idea on hold, is nonetheless forging ahead. It's building a crypto custody solution for institutional investors.
Goldman Chief Financial Officer Martin Chavez told the crowd at a TechCrunch Disrupt Conference in San Francisco…
Physical bitcoin is something tremendously interesting, and tremendously challenging. From the perspective of custody, we don't yet see an institutional-grade custodial solution for bitcoin. We're interested in having that exist, and it's a long road.
Goldman recognizes that crypto still has a ways to go before it enters the mainstream. It sees the custody solutions currently available and knows they can be done better, but it wants to take a careful, measured approach. It wants to get it right.
And when that happens, the value of bitcoin will only continue to grow… as will the worth of one insanely expensive pizza order.