Equity Crowdfunding Playbook
Part 2: Key Players in Your Startup Ecosystem
By Andrew Gordon, Co-Founder, First Stage Investor
Editor's Note: This is Part 2 of a 12-part series called the First Stage Investor Equity Crowdfunding Playbook. Read more about the playbook here.
Remember, investing in startups isn't like investing in traditional stocks. The avenues to invest in startups are quite different. Today we'll walk you through the major players you need to know about. That way, you'll be set up for success.
The Three Players You Need
Many players populate the startup world. They range from government watchdog agencies to the accelerators that produce generation after generation of exciting startups.
But today we're only talking about three.
Not in the picture? Brokers, public exchanges, mutual funds or 401(k) plans.
You don't need any of them.
The main players involved in finding great companies to invest in are…
The startups that make themselves available to you
The specialized websites where they're found
And, of course, you, the investor.
Okay, there is one more player of note. And that's us.
We do our best to ensure that all the great companies we show you are truly great.
I think you already know that. We also use our expertise and connections with specialized websites to give you the best startup opportunities out there.
So no more talk about us.
As for you, the investor, all we can say is…
You're not alone.
There are millions just like you. I'm talking about folks who are ambitious enough to want to do more with their portfolios… And smart enough to know that the publicly listed companies don't hand anybody big gains anymore.
You also have to be confident enough to take advantage of an entirely new way to invest. One that fills a gaping and growing hole in your portfolio. It's a way that gives you the chance to own equity in potentially big (sometimes unbelievably big) gainers.
As for the startups themselves?
What's different about them is that none are listed on public exchanges.
Instead, they make themselves available to you by raising funds on websites set up specifically for this purpose.
Think of these websites (or portals) as part exchange and part broker.
They all have brokerage licenses. The government requires it. They're the ones handling your investment.
But rather than have a single broker, you have multiple portals at your disposal.
Usually, our main job is to tell you which startups impress us the most and why.
Today we're going to tell you which portals impress us the most and why.
The Portals Connect You to the Startups That Seek Your Investment
Each portal does things a little differently.
There are thousands of startup portals worldwide and hundreds in the U.S. alone.
Most, however, cater to rich investors.
Others list startups offering not equity, but "rewards." If you've heard of Indiegogo and Kickstarter, you know what I mean.
The ones that target the crowd? They number around two dozen in the U.S.
Out of those, there are just a handful worth paying attention to – the ones that get the best startups in the country to list with them.
Here are the ones we trust (and use) the most…
Location: It's based in New York City.
Type of Deals Offered: Deals are Regulation Crowdfunding and Regulation A+. (Reg. CF companies can raise up to $1 million. Reg. A+ companies can raise much more – up to $50 million in a slightly later round than Reg. CF startups.)
Quality of Deals Offered: Deals are outstanding.
How it makes money: It charges a small commission (of investments raised) to the startups. Investors pay no fees.
Alignment of interests: Alignment is well-balanced; commission structure benefits both startups and investors. Its policy of accepting only 1% of applicants aligns strongly with investors.
Traction: It has raised $56 million going to its 33 companies. Almost 12,000 investors signed up to its site.
My favorite quote: We've turned down companies whose valuations we think are too high, but only after asking them to consider reducing it.
Comments: Several of our recommendations come from SeedInvest, including Virtuix, 8tracks, DSTLD and Keen Home. They're all Reg. A+ startups, by the way.
We've been working with SeedInvest for a few years now. We enjoy keeping in touch with their founders. They're professional and very cooperative.
Location: It's based in San Francisco.
Type of Deals Offered: Deals are Reg CF.
Quality of Deals Offered: Deals are outstanding.
How it makes money: It charges a 2% fee to investors and 3% of total funding to the startups.
Alignment of interests: Alignment is nicely balanced; both startups and investors contribute to the portal's coffers.
Traction: It has signed up 82,507 investors to its site. And it has raised just over $11 million for 43 of its listed startups. That's 6.2 times more money than its closest competitor.
My favorite quote: It is really important to us that as much money goes to the founders as possible. It's what investors want and it's what founders want.
Comments: Three of our recommendations come from Wefunder: VetPronto, Barrow's Intense Ginger Liqueur and last month's featured recommendation, EVELO. We've probably been working with the folks at Wefunder longer than we have with any other portal. They're strong believers in the benefits of equity crowdfunding – for startups, everyday investors and the country's economy. We like and respect their two top executives, Nick Tommarello and Mike Norman. They're incredibly well-connected to the startup community. And it shows in the deal flow their site gets.
Location: It's based in San Francisco.
Type of Deals Offered: Deals are Reg CF.
Quality of Deals Offered: Deal flow is limited, but it's of outstanding quality.
How it makes money: It charges a 5% fee to companies plus another 2% in the form of equity (private shares).
Alignment of interests: The two founders come from AngelList, the best startup portal in the country for accredited investors. Republic wants to adopt AngelList's philosophy: Attract the best startups and investors will keep coming back.
Traction: It's too early to tell. It launched this past July.
My favorite quote: Pre-seed investing is a bet on the team, and I'm incredibly proud of the founders we're working with.
Comments: One of our recent recommendations, Whim, comes from Republic. It's our first recommendation from the portal, but it certainly won't be the last. Republic's association with AngelList has the potential to separate this portal from the pack. Startups that raise money on AngelList can now also list their deals on Republic. Crowdinvestors will have the opportunity to co-invest alongside professional investors and angels.
A Few More…
MicroVentures: It's one of the original online angel investing sites. MicroVentures recently joined forces with Indiegogo, the U.S.'s second-largest (non-equity) crowdfunding site. Some of MicroVentures' companies will be Indiegogo alum and some will be new companies attracted to the powerful MicroVentures/Indiegogo collaboration.
Bankroll: It has limited deal flow right now. But it struck gold with BrewDog USA, one of two startups listed on its site. We had BrewDog in our crosshairs very early on. We enjoyed working with the BankRoll folks during our vetting of the company. Their deal flow has to expand for the site to catch on.
NextSeed: It's raised more than $2.8 million for Texas companies since 2015. Now it's sourcing its deals nationally, a big step for the portal. The jury's still out, but it has the experience to succeed.
There are, of course, many others. But they are either in their very early stages, or their progress so far has been less than impressive.
Some will emerge as major players. Others will fade and eventually disappear.
So we'll be monitoring the portals. They're our eyes and ears too.
The portals are a huge part of the crowdfunding ecosystem. Feel free to check them out on your own. If you like, do it one at a time when you have a few moments.
And if you don't have the time, don't sweat it. That's what we're here for!
We talk a lot about diversification. Well, diversifying your portfolio by portal is as good a way as any to diversify. You don't want too many – or all – of your startup deals to come from a single portal, no matter how much you like it.
The more time you spend on these sites checking out startups, the better feel you'll develop not only for the individual sites, but also for the quality of deal flow offered on them.
---
CHART OF THE MONTH
Breaking Down the Top Consumer Exits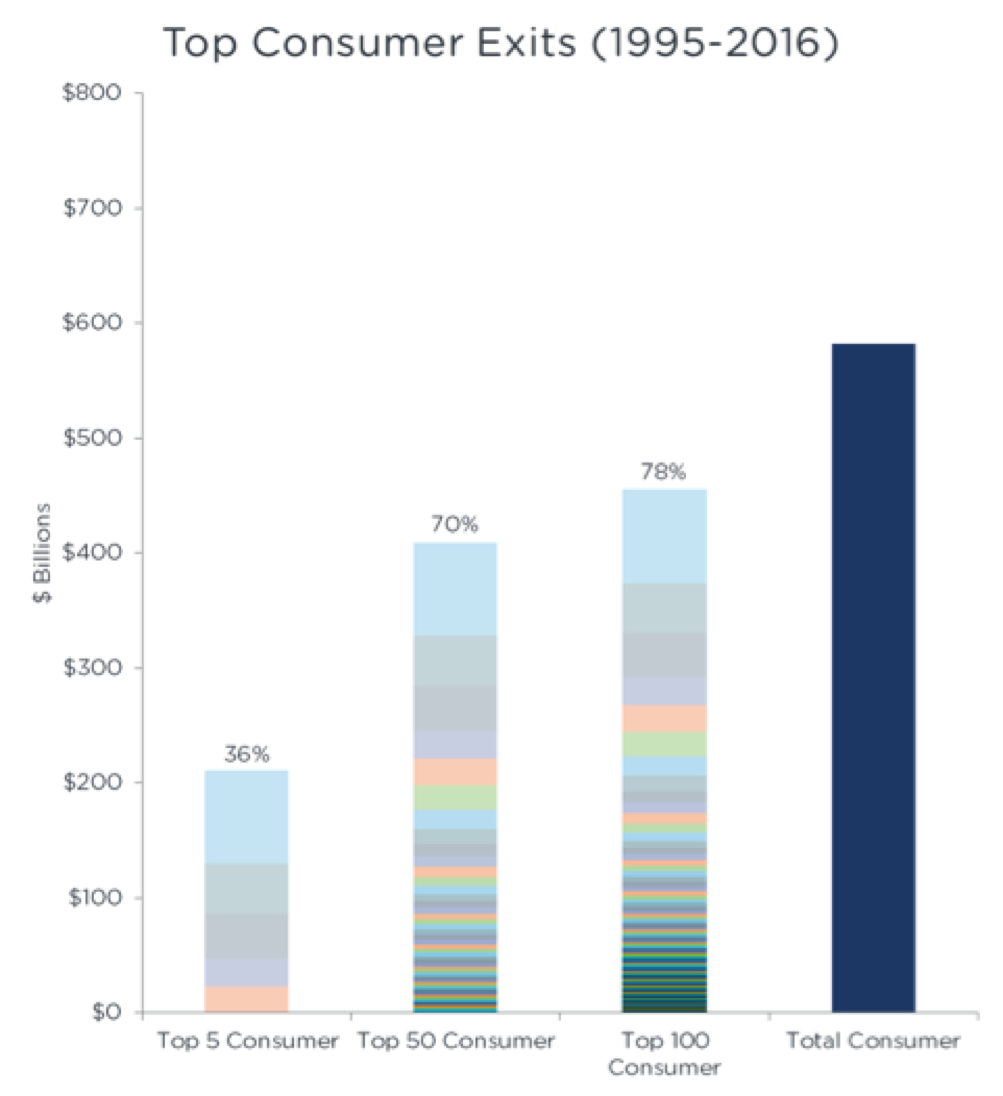 Source: Sapphire Ventures
Our chart this month shows that investors have reaped $582 billion in profits from their early investments in consumer startups over the past 20 years.
But when you break down the numbers, it gets interesting…
More than a third of that total – or $211 billion – is from just five companies. They exited at stratospheric valuations, averaging slightly more than $42 billion each.
The top 50 exits account for around $407 billion, or 70% of total consumer startup exits. Those 45 extra startup exits generated another $196 billion for investors. (Editor's Note: These numbers represent gross returns. The original investments are not netted out.)
That's an average of $4.35 billion per exiting startup. Quite a drop from the top five average of around $42 billion.
I get it. They comprised the outliers – the astoundingly successful companies like Twitter, Facebook and WhatsApp.
And let's face it, $4 billion-plus exits ain't bad.
But in the next tier, the insanely big exits stop.
Looking at the chart, you can track their faltering progress. The next 50 highest exits accumulate about $50 billion. From $407 billion (the top 50 exits) to $454 billion (the top 100 exits).
That averages out to less than $1 billion per exit. Or $940 million, to be exact.
But as an early-stage investor, you're still making outlandish profits.
As for the remaining 2,500 consumer exits tracked during this period?
They gave investors an average return of $51.2 million. Later-stage investors aren't exactly raking in the dough at this point.
But early-stage investors?
I can't emphasize this enough. Even at these much lower exits, they're still DOUBLING their money. (Granted, this is a very rough estimate based on investing at a valuation of $10 million to $15 million and exiting at a 50% dilution.)
So, to sum it all up…
If you invested in a top-five outlier, your company is worth $42 billion. If you invested in one of the next group of 45 highest exits, your company is worth $4.35 billion. If you invested in one of the next group of 50 exits, it's $940 million. If you invested in one of the rest, it's a $51.2 million average.
Owning shares in any of the top 100 would make you a nice fortune. It's only in the last group that your profits might be disappointing.
Or not…
Remember, we're still talking about 100% gains. (Remember our outline on the gains of startups.)
Professional venture capital investors might be unhappy about the smaller profits. That's not why their clients write them half-million-dollar checks.
But if that's a worst-case scenario regarding consumer startup exits, there are worse outcomes than doubling your money.
---
"We Have No More Excuses NOT to Ride a Bike"
Q&A With EVELO Founder/CEO Boris Mordkovich
By Andrew Gordon, Co-Founder, First Stage Investor
Editor's Note: I'm big on cycling. You'd think this connection to EVELO, our recommendation from late December (round closed), would have made me particularly enthusiastic about its endeavor. But, as you'll see below in my Q&A with Founder and CEO Boris Mordkovich, it was the opposite – at least, that's how we started out. Read on for a look at who their bikes are really for and why – and what the future holds for EVELO.
---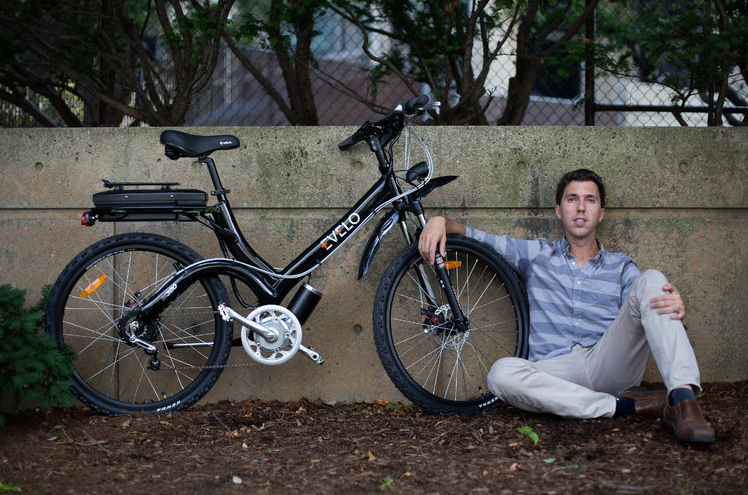 "Everywhere we went, we drew a crowd. You should have seen their faces. They were mesmerized."
Andy: I log around 300 miles on my bike every week. And this is what I think. You have concocted an evil plot to keep people from getting meaningful exercise on their bikes. Go ahead, tell me I'm wrong.
Boris: Well, pleased to meet you too, Andy. It's certainly not the first time I've heard this concern, but I think I can make a case for the exact opposite – that the electric bike user will end up exercising more and riding their bike more frequently than a non-electric bike user.
Moreover, over the last few years, we've seen that electric bikes hold tremendous potential at getting a much larger segment of the population onto bikes by removing the barriers that keep people from biking, such as hills, fitness levels, distance, age or other reasons.
Andy: Go on.
Boris: We've actually designed our bikes specifically for people who aren't riders or did ride at one point and quit. Sometimes these people live in really hilly areas, sometimes their age or their fitness level is getting in the way of enjoying all of the bike's benefits. Sometimes they just aren't able to keep up with their spouse or riding partner, so they avoid getting on the bike altogether.
What electric bikes do is make it possible for people to go anywhere they want while having the control to decide how much effort they want or are able to put into it.
Take hills, for example. In the past, I've heard countless stories of people becoming so discouraged when they try biking because they have to bike up a steep hill and actually need to walk the bike up each time. As a result, it's not fun or enjoyable for them, so they give up after a few times.
With our bikes, they always have access to power on demand, which gives them the ability to pedal as hard or as easily as they want and still tackle any terrain. It's a very empowering feeling.
We've removed the big reasons NOT to jump on a bike.
Andy: Let me get this straight. You're saying your bikes are better suited for non-bikers like my wife and that I should stick to my traditional 18-gear roadster?
Boris: Before I answer, Andy, how much luck have you had in getting your wife to bike with you?
Andy: Actually, none. She's simply not interested.
Boris: It's funny you bring up this particular example. My brother Yevgeniy loves riding bikes. But his wife didn't.
The way we got into this industry in the first place was he built his first electric bike so his wife would spend more time with him.
Andy: Did it work?
Boris: Absolutely! It did exactly what the intention was – which was to equalize their skill levels and make it easier for them to go ride together without worrying about distance or being able to keep up. She loved it!
Andy: Okay, I can see why a non-cyclist would take to an electric version of the traditional bike. You can calibrate how hard you want to exercise. At the same time, you're enjoying the outdoors and the urban or rural scenery as it whizzes by.
Boris: Exactly. That's what Yevgeniy thought too… that electric bikes could appeal to a much bigger base than traditional bikes. This idea began with him.
Andy: So I shouldn't take EVELO as a personal attack on my biking regime, huh? It's more for my wife than me?
Boris: It's for both of you. I think you'd have a blast on our electric bike. You'd probably stay away from the motor more than a lot of people, but that's fine. Think of it this way: Whatever distances you're doing now, you can double or triple them.
But on a more important note, it's important for all of us to be able to step out of our own shoes and see what sorts of reasons prevent other people from doing things like biking.
Even if you are the world's strongest cyclist, you can always come up with examples of people – a neighbor, a parent, a spouse, somebody at work – who aren't currently enjoying the benefits of cycling because of X, whatever X may be.
Andy: Sounds about right.
Boris: I think that we are living at a time when there are several macrotrends coming together that make the environment for electric bikes really fertile.
We're seeing bike infrastructure being built up in major cities all over the U.S., which improves safety and perceptions of cycling.
Personal car ownership is becoming less relevant each year with the advent of services such as Uber, Zipcar and many others.
Plus, there is a renewed emphasis on health and fitness among all segments of the population.
I think that the U.S. is at the early stages of a massive bike renaissance, and electric bikes will stand to benefit greatly from it.
Andy: How can you be sure?
Boris: I'll tell you a story. We started this venture back in 2011. To get the company off to the right start, a partner and I took our first models for a little 4,000-mile spin – from New York City to San Francisco. We wanted to test the bikes in action, but also better understand the cross section of our market.
I swear, every time we stopped to take a break, we drew a crowd. People were excited, interested and engaged. And after taking a short test ride, everyone would come back with a smile and a bunch of questions.
Andy: Hopefully questions like, "where can I buy one of these new-fangled contraptions?"
Boris: That among others. Like, "how does it work? How fast can it go?" Everybody was real curious because they could instantly relate to the product and imagine themselves or somebody they knew on it.
Andy: Sounds like a great trip!
Boris: It was. By the end, I pretty much knew we were going to be able to lure people away from cars to electric bikes. There's a reason why electric bikes are the world's most popular electric vehicle category AND the faster-growing bicycle category.
Andy: Okay, let's back up a bit. What were you doing before EVELO?
Boris: Good question! My brother and I actually worked together for almost a decade prior to launching EVELO, during which we co-founded and sold two other companies. Both revolved around e-commerce. It's how we picked up our knowledge of online marketing.
Andy: What kinds of companies, exactly?
Boris: One was a print magazine that helped educate small and midsized businesses on how to properly position themselves online and attract new customers through digital marketing. Another was a software-as-a-service company that helped businesses properly manage and run their online advertising. We even wrote a book on the subject.
Andy: So you learned a lot about what made e-commerce click. How about running a company?
Boris: With both of these companies, we started with just an idea, limited capital and a market that was just beginning to develop.
We were able to recruit a strong team, develop a profitable business model early on, and thrive to the point where both companies were eventually acquired.
While EVELO is in a different market, of course, many of the lessons we've picked up from the previous businesses still apply.
Andy: What does your team look like right now?
Boris: Our team is actually fairly spread out – between Seattle, Boston, New York and a few other cities. This allows us to attract better talent regardless of where they are while also staying lean and efficient. Combined, we bring experience from the traditional bike industry, retail and e-commerce – making for a perfect combination.
As a matter of fact, in early December, we wrapped up our team retreat in Seattle where we planned for the year ahead.
Andy: Any big takeaways you want to reveal?
Boris: Absolutely. We are working to continue to bring innovative new products to market in 2017, 2018 and beyond that can accommodate different use-cases. We're also working on ways to drive down the cost of production at the same time.
We are working on ways to make electric bikes more accessible to people who are more price-sensitive – in other words, how to make electric bikes more affordable.
And finally, we are looking at eventually expanding beyond the U.S. market as well.
Andy: That's ambitious.
Boris: That's the nature of a young company. We want to challenge the existing industry that's been set in its ways for decades, and we got a lot of work ahead of us, so we can't lose time. That said, I believe we have a team that can get all of this done.
Andy: It won't be easy. But you and Yevgeniy are very capable guys, and you've done a great job so far. If I felt otherwise, I wouldn't have recommended EVELO. I wish you the best of luck.
Boris: Thanks. I appreciate the support and look forward to getting to know some of your members one of these days.
Andy: Speaking of our First Stage Investor members, do you have any requests? Anything they can do to help you out besides invest in the company?
Boris: Absolutely!
For the members who invest, if they're interested in getting a bike for themselves or a loved one, we'd love to offer a special investor pricing if they would also be willing to become one of our ambassadors – which will allow us to connect them with potential customers looking for a test ride. This way, they'll also be able to make money every time they do a test ride, and it would tremendously help the company grow.
Andy: Consider it done.
---
January Portfolio Snapshot
We'll take a quick look this month at news from one of our portfolio companies.
If you took advantage of our 8tracks investment opportunity, you know the numbers currently look good, AND the company is rewarding you.
8tracks closed its fundraising round in November sporting pretty good numbers. It raised $1.8 million. And more than 5,000 investors are backing the company.
While the minimum investment was $100 ($99, to be precise), investors averaged about $500 each.
8tracks signed off its round with this promise: All investors will receive a lifetime upgrade to 8tracks' premium service. Meaning no ads… and "a lifetime of blissful, uninterrupted music."
8tracks told me that it has already provided the upgrades automatically by matching investors' SeedInvest email addresses to its database. But if you haven't gotten your upgrade, email the company and 8tracks will manually upgrade your account.
When you contact 8tracks, give it your full name, email address (associated with your 8tracks account) and your 8tracks profile link or username, then send it to hello@8tracks.com. Or click on this link and fill in the three-question form. Click "Submit," and you're done.
---
First Stage Investor Portfolio