How to Transfer Bitcoin from Coinbase to Bittrex
As you've already learned, Bitcoin is essentially the "reserve" currency of the crypto world. It's one the largest, most actively traded cryptocurrencies. And in many cases, the prices of smaller exchange-traded coins are influenced by Bitcoin prices.
As a crypto investor, it's important to hold Bitcoin for two reasons. First, it's a valuable investment with strong price appreciation…and it's likely to remain the foundation of the crypto world. Second, it's the standard method of payment for smaller exchange traded coins.
In Crypto Asset Strategies, we'll use our Bittrex account to purchase other cryptocurrencies.  Unfortunately, you can't buy Bitcoin using U.S. dollars in Bittrex.
So, you'll need to follow the instructions below, to transfer some Bitcoin from your Coinbase account into your Bittrex account.
Step #1: Log into your Bittrex account
Step #2: Click on the "wallets" icon in the upper right corner

Step #3: Under the "Account Balances" header, you'll see Bitcoin listed. Click the blue "plus sign" next to Bitcoin.

Step #4: A box will pop up providing you with a Bitcoin public address. (see image below, for help) Copy the address by selecting it and clicking control-C on your keyboard.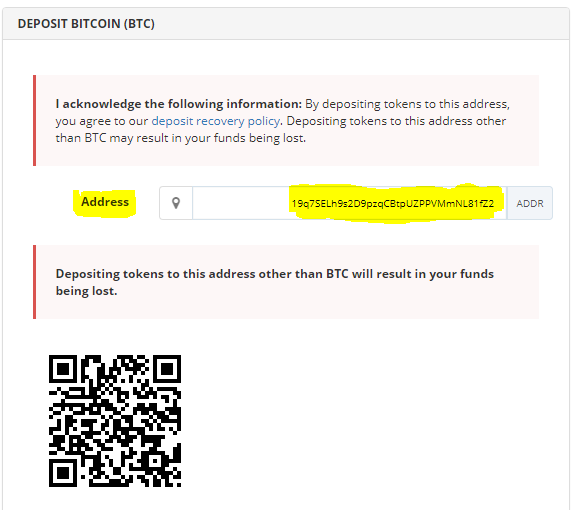 Step #5: In a separate browser window, login to your Coinbase account. (Note: You'll need to have Bitcoin available in your Coinbase account. If you've just purchased it, please be aware that  your transaction may take a few days to process).
Step #6: Within Coinbase, click on the "Accounts" tab.

Step #7:  Click on the "send" icon within your Bitcoin wallet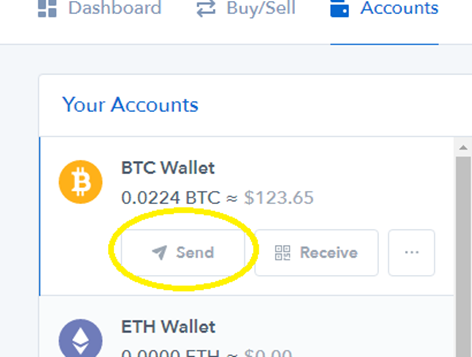 Step #8:  A screen will pop up, asking you to provide details for your transfer. Press CTRL+V to "paste" your Bittrex wallet address into the highlighted box. Then, fill in the amount you wish to transfer. You can enter your selected amount in US dollars or in Bitcoin.
NOTES:
Sending fractional amounts is fine. You can send .002 Bitcoin, or 10. Just be aware that there are fees for sending Bitcoin, so transferring less than $30 is going to be expensive (lower fees and faster transactions are a top priority of the Bitcoin foundation, and fixes are in the works).
Do a small test order before sending larger amounts. If you send to the wrong address, your coins could be lost.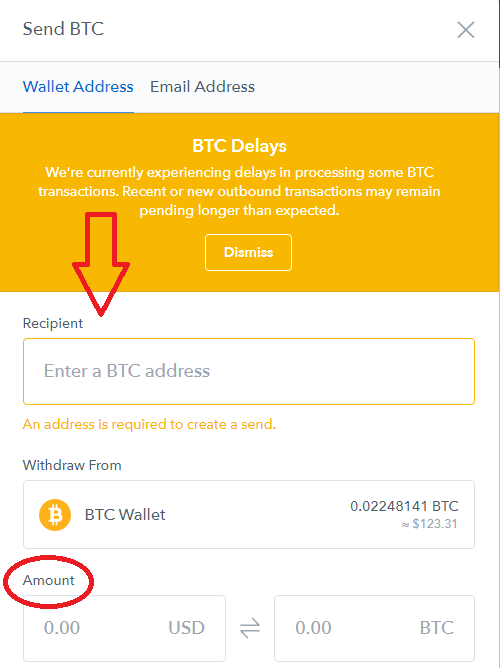 Step #9:  Click the blue "Continue" button to initiate your transfer.

Step #10:  A box will pop up prompting you to confirm your transaction. Review the transaction details, to ensure everything is correct, then complete the SMS verification using your smartphone. Finally, click the blue "Confirm" button to complete your transfer.
Step #11: You should see a message indicating that the transaction was successfully completed. It will look like this: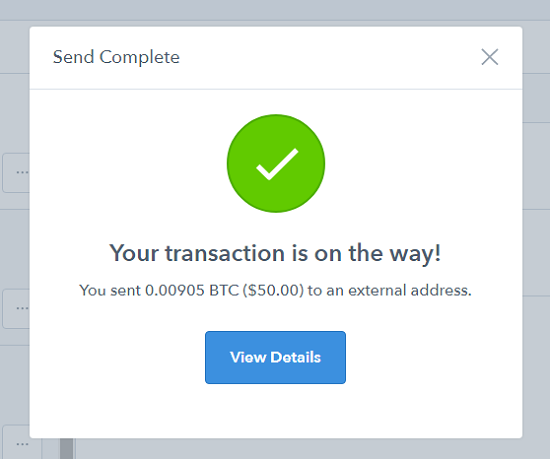 Step #12: Please allow as many as 4-5 hours for the transfer to appear in your Bittrex wallet. You will see the the desposit listed as "pending" in Bittrex before it arrives, and once the transaction is confirmed by the network, your coins will arrive in your Bittrex wallet.
Coinbase will email you a receipt for your records. Once the transfer has occurred, you will see it reflected per your Bitcoin balance in both Coinbase and Bittrex. Coinbase will also keep a record of the transaction under the "Accounts" tab, which you can reference at any point in the future.