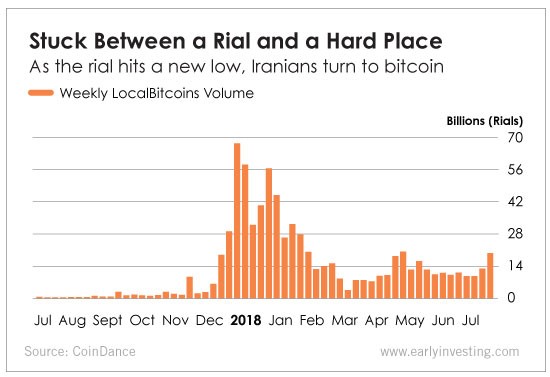 The Iranian rial set a new low last Monday, falling to a rate of 110,000 rials to the U.S. dollar. Worried about their currency's collapsing value, some Iranians have been looking to bitcoin and other decentralized assets to circumvent U.S. economic sanctions. Iranians are also hoarding gold.
LocalBitcoins, a service that allows people in different countries to use fiat money (in this case, the rial) to buy bitcoin directly from bitcoin holders, saw trading volume in Iran rise exponentially at the tail end of 2017 and the beginning of 2018. Volume also saw an uptick over the last few weeks of July.
One Iranian told CCN she has been purchasing bitcoins every month as a protective measure against U.S. sanctions:
"I started purchasing bitcoin, and even ethereum, thinking [the] Iranian central bank will not be able to resolve the poor economic situation," she told CCN. "I had read many reports about Chinese and Venezuelan people doing the same at the time of their economic crisis."
It's a tough economic environment to be in. Iranians are currently caught between a depreciating national currency and tight government restrictions on foreign currency transactions. Government authorities have also started clamping down on those purchasing gold coins on the black market in an attempt to get around restrictions.
As we've seen with Venezuela's enormous inflation rate, battered economies and devalued currencies push people to seek alternative stores of value. That's why Iranians are buying bitcoin. It's one of the few ways they can hold on to their wealth.
As Adam pointed out last week, countries with high inflation, debt and other financial problems tend to be crypto hot spots.
Almost anywhere there's a lack of trust in central banks and government, there's a thriving crypto community. It has now spread across the entire world. And it's all fueled by a thirst for new technology and distrust of the political establishment and the establishment monetary system.
I can't even begin to imagine what the people of Iran (or Venezuela) are going through right now. Crumbling economies are extremely difficult to live under – just imagine what it would be like for all of your wealth and spending power to disappear overnight.
Crypto's path in Iran will probably be a bumpy one. The corrupt Iranian government has a history of resisting crypto. In February, the Central Bank of Iran said it never recognized bitcoin or any other cryptocurrency as an official currency. In April, the bank banned bitcoin and other digital currencies over money laundering concerns.
Despite its hostility to crypto, Iran recently confirmed it will move ahead with plans to create a state-issued cryptocurrency that will function as a domestic currency and an international settlement token for global trade and commerce. Importantly, the cryptocurrency will also dodge U.S. sanctions.
We saw a similar scenario play out in Venezuela earlier this year, when the South American country released a state-backed "petro" coin (due to begin circulating in late August). Venezuela had its share of critics who didn't see the benefit of the petro. It's likely Iran will receive some of the same pushback.
But if Iran moves forward with its state crypto, it's at least a sign that the country is taking blockchain technology seriously (or that it's really desperate). Given its current economic state, it's the least it can do.