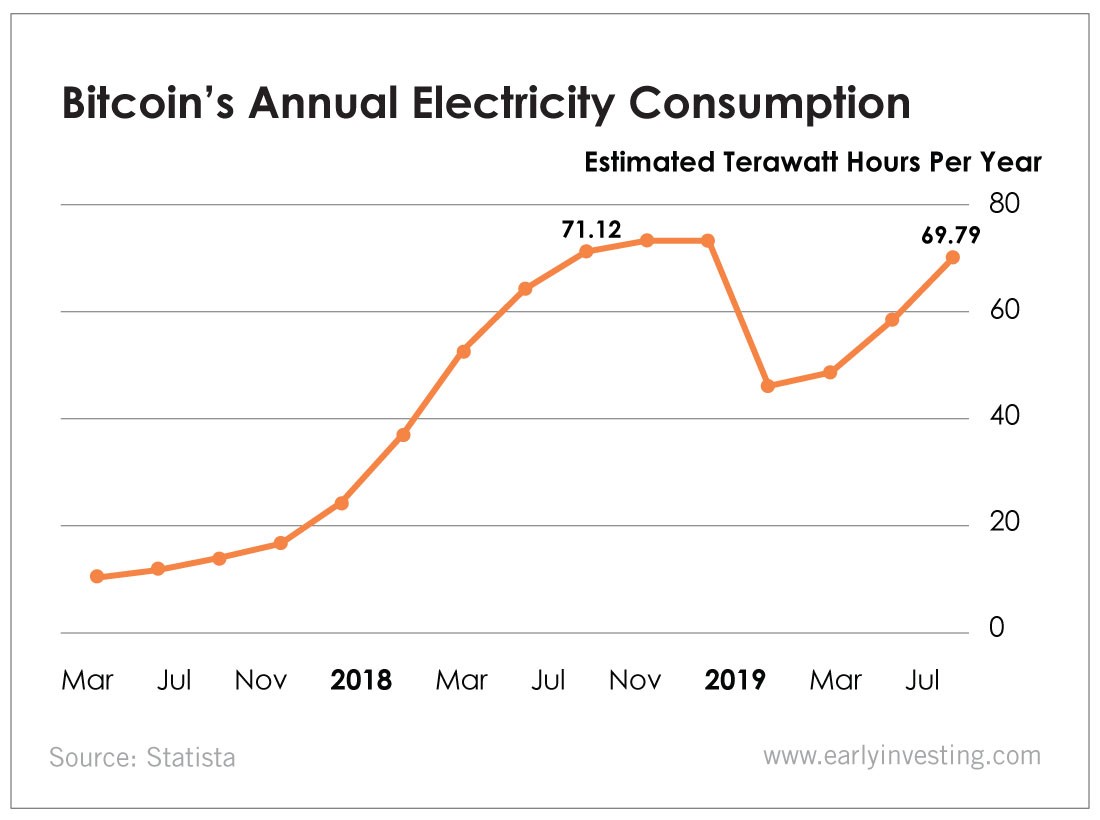 Bitcoin is getting more eco-friendly.
Despite more computing power being dedicated to bitcoin mining, less electricity is required to fuel it. Data from Statista shows that bitcoin mining energy consumption was 69.79 terawatt hours per year as of July 2019. In July 2018, it was 71.12 terawatts. And the current hash rate (the measure of computing power it takes to process bitcoin transactions) is almost 60% higher than it was back then.
There are two net positives here. One is that bitcoin's hash rate keeps climbing. As we've written before, that's a sign that bitcoin adoption is going strong and the network is more secure than ever.
The other is that bitcoin mining is consuming less energy. And this seems to be a growing trend. In June, a CoinShares study estimated 74% of bitcoin mining is powered by renewable energy. The report said the correlation between bitcoin mining and renewable energy makes bitcoin mining "more renewables-driven than almost every other large-scale industry in the world."
Bitcoin's improved energy efficiency is good for miners too. The CoinShares study found that "at current prices, the average miner is highly profitable, with even older gear and high-cost producers currently able to make positive ROI."
Even Bitmain is trying to be more efficient. The company is the largest manufacturer of crypto mining equipment by market share. (It also operates a large bitcoin mining pool and has some problematic views on monopolizing the network.) Bitmain recently released a new chip that's almost 30% more efficient than its last one. And back in March, Bitmain announced plans to set up 200,000 units of mining equipment in China to take advantage of the country's cheap hydroelectric power.
Bitcoin mining has been criticized in the past for its high energy consumption. But bitcoin mining is more green than you think. And today's chart shows that it's getting greener.