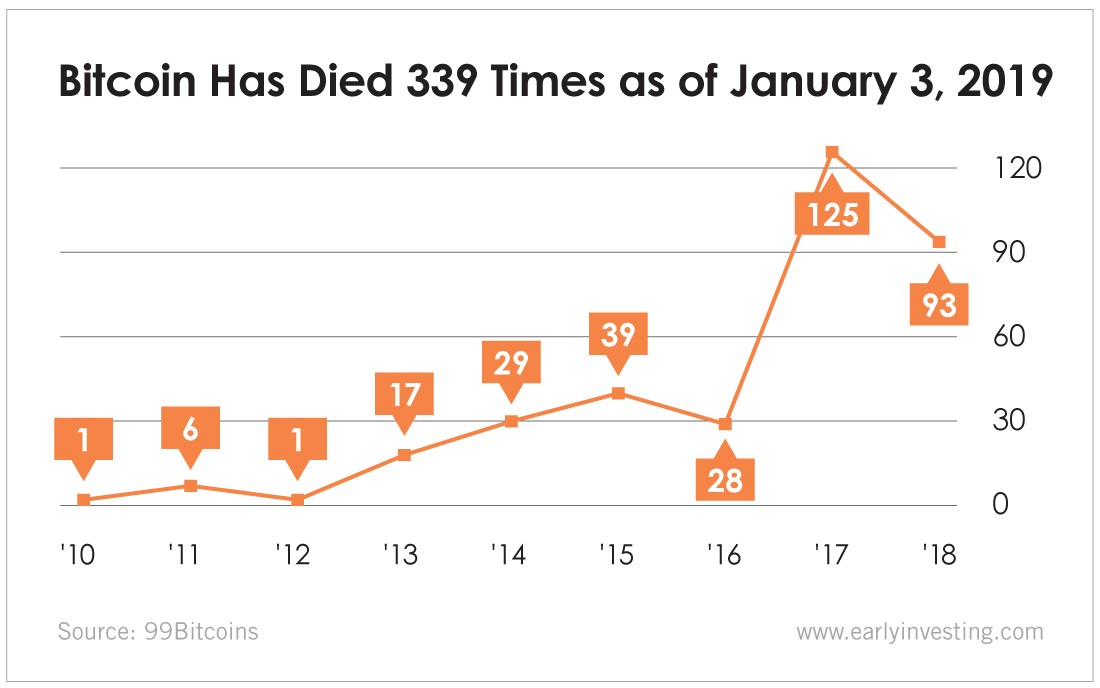 Bitcoin has been on an epic journey. Born in the midst of financial chaos in 2008, it traveled from prices lower than $1 to a high of nearly $20,000 in 2017. It saw its first transaction, 10,000 bitcoins for a pizza order, in 2010, when the first bitcoin exchanges began to emerge. In 2013, its price surpassed $1,000 for the first time.
Along this journey, bitcoin has faced many opponents – business executives, journalists, economists – who have decried the original crypto. According to 99Bitcoins, which tracks bitcoin "death declarations," bitcoin has died 339 times as of January 3, 2019. 2017 was a particularly negative year, with 125 declarations. 2018 had a little less doom and gloom, with 93.
There have been some amusing headlines over the years: "Bitcoin Sees the Grim Reaper" (June 2013); "The Bitcoin Bros Have Lost" (August 2016); and my personal favorite: "Bitcoin is 'dying and will be remembered like pogs'" (February 2015).
But bitcoin's journey is far from over. And it is decidedly not dead. As of this writing, it has a market cap of $70 billion and a price of $4,041. The Lightning Network, bitcoin's scaling solution, has bitcoin processing 75% more transactions – and doing it much more efficiently than it has in the past. As a result, transaction fees have hit their lowest level since 2015.
The bitcoin community is holding strong, having just celebrated bitcoin's 10-year anniversary. The world's top programmers continue making improvements to the bitcoin network every day, as the Lightning Network shows.
In five years, we'll probably look back at some of the "crypto death knell" headlines of today with a chuckle.
Bitcoin still has a ways to go, and it will face more obstacles in the years to come. But it's been proving the doubters wrong for 10 years now, and it's getting stronger every day. I believe our hero will prevail.