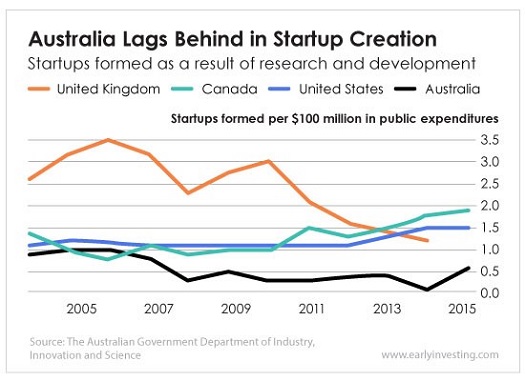 Australia has some catching up to do.
According to an Innovation and Science Australia report for the Australian government, Australia is dragging its feet when it comes to startups, consistently staying below one startup created per $100 million in public expenditures on research and development.
The report cites two barriers to commercialization of research: competition for workers and availability of workers with relevant commercial skills.
The Australian government has decided to address these issues by giving its startups more access to capital in the form of equity crowdfunding.
The country's Parliament passed the federal government's equity crowdfunding reforms last Wednesday. The Corporations Amendment (Crowd-Sourced Funding for Proprietary Companies) Bill 2017 extends equity crowdfunding to private Australian companies – much like the U.S. did not too long ago. Before that, Australian companies were required to convert to unlisted public companies to participate in crowdfunding.
The legislation will take effect in October. Prime Minister Scott Morrison says the opportunity for private companies to take part in equity crowdfunding is a "game changer" for local tech companies and startups and an "example of the government getting on with the job."
This is good news for Australian startups and even better news for Australian investors. Expanded equity crowdfunding means more opportunity for innovative startups to enter the market… and more opportunity for investors to profit from them.